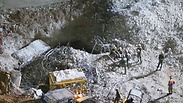 The disaster site.
Photo: Yaron Brener
Rescue workers extracted Friday evening the bodies of two more victim of the collapse of an under-construction parking garage in Tel Aviv's Ramat Hahayal neighborhood from the site of the incident, making them the fourth and fifth bodies to be pulled from the rubble. One of the bodies was located earlier on Friday, but rescuers could only reach it later in the evening. The fifth body was extracted shortly after the fourth.

Rescue workers at the site. (צילום: יוגב אטיאס )

A sixth person is said to be missing, and presumed to be in great danger, especially considering the four-day span of time that has passed without rescue workers being able to locate them. At least 23 people were injured in the incident.

Rescue operations are particularly challenging in this case, since the collapsed building was to be a parking garage, and thus much of it was underground. Ramat Hahayal is a Tel Aviv neighborhood that is home to many office buildings, and considered one of Israel's centers of high-tech business activities.