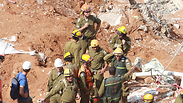 The site of the parking structure collapse
Photo: Dana Kopel
Body of presumably last missing person in parking lot collapse found
The Home Front Command workers at the site of the parking lot that collapsed on Monday extracted the body of who is believed to be the last person missing under the rubble; together with the two bodies found on Friday, this brings the total body count thus far to six.
Rescue workers from the Home Front Command found on Saturday the body of another one of the people who were trapped under Monday's parking structure collapse. The body uncovered Saturday will be examined to determine whether is it that of Mohammad Dawabsha, who has been missing since the collapse. This brought the number of those killed in the disaster to six.
The site of the parking structure is located at Tel Aviv's northern neighborhood Ramat HaHayal. At first, the bodies of only two victims were found at there, and then a third. 23 people were injured in the event. After receiving word of what happened, the Police and Home Front Command began searching for survivors.
Site of the parking lot collpase (צילום: יוגב אטיאס )
The rescuers worked for several days straight in an effort to find any and all survivors. Four hours following the collapse, they still managed to hear and communicate with some of those trapped under the debris through yelling and cellular connection. After that, the communication with them was lost.
Workers on the site reported noticing certain oversights. Micha Levin, a foreman at the site, described "a machine that cleaned the floor. Every time we passed it, we felt the earth shaking. It didn't feel right. I told the project manager that it doesn't feel 'healthy,' the way it makes things shake. Not an hour went by before the whole building collapsed from its center."
The building of the parking structure was headed by investment company Africa Israel Residencies and its construction company Danya Cebus. It was commissioned by Ahuzat Hof, a daughter company of the Tel Aviv Municipality.
Africa Israel issued a statement, saying that "The company is examining the reasons for the crash, its results and implications." Danya Cebus' Spokesperson's Office issued a similar statement.