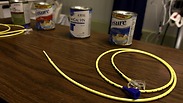 A feeding tube used to force-feed prisoners
Photo: AP
High Court rejects anti force-feeding petition
After being voted into law more than a year ago and facing a great deal of criticism from legal experts, the 'force-feed law' was found by several High Court justices to uphold a balance between the sanctity of life, public interests and individual rights.
A panel of High Court judge rejected a petition Sunday, which called to cancel the force-feeding of detainees and prisoners. Supreme Court Judges Elyakim Rubenstein, Noam Solberg and Menachem Meni Mazuz held that an amendment to the order given to Israeli prisons, which allows for force-feeding prisoners while working to prevent causing damage to their health, upholds any constitutional yardstick regarding the rights of prisoners and detainees.

The judges noted that they had come to their decision after reviewing claims in light of former Israeli rulings, international law, comparative law and Hebrew law.

In their decision, the judges also explained that allowing the force-feeding of prisoners maintains a gentle balance between the sanctity of life, public interests, the individual's right to dignity, their right to autonomy and freedom of expression. The decision was reportedly also based on several medical, legal and judicial sources.

The Knesset Assembly voted the "force-feed" bill into law in July 2015, after a long process to get it approved. An amendment to the order given to Israeli prisons acts in this case as a measure of oversight to prison force-feeding, allowing a representative of the prison to approach a district court judge and, with the permission of the attorney general, ask that a prisoner on a self-imposed hunger strike receive medical attention.

The approval of the law raised a great deal of opposition from medical experts, and in a recent case even came to physicians refusing to force-feed Mohammed Allaan, a West Bank detainee who went on a hunger strike. Following its approval, Israel Medical Association Chairman Dr. Leonid Eidelman called it "a harmful law that blemishes Israel's statutes book."