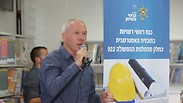 Minister of Construction Yoav Galant
Photo: Sasson Tiram
Thousands of housing units to be built for Arab sector
Minister of Construction Yoav Galant (Kulanu) arrived in the northern Arab town of Baqa al-Gharbiya on Thursday to sign a widespread agreement with 15 local municipal authorities regarding building new housing units for the Arab sector; 30,000 units are due to be built, in what will cost the government roughly 4.1 billion shekels.
Minister of Construction Yoav Galant (Kulanu) traveled to Baka al-Gharbiya, where he signed an agreement to build thousands of units for the Arab sector. The agreement includes 15 heads of local municipal Arab authorities. Galant was accompanied to Baka al-Gharbiya by Minister for Social Equality Gila Gamliel (Likud), Deputy Minister Jackie Levy (Likud) and Construction Ministry Director General Eshel Armoni.

According to the agreement, the Ministry of Construction will allocate 1.41 billion shekels to erect public housing for Israeli Arabs, in addition to it lifting restrictions from building on private land.

The agreement with the 15 municipal authorities is seen as a preliminary move, prior to having over 50 local municipal authorities sign on. Another main goal of the agreement is to increase government funding for public structures, approving over 30,000 housing units on private and government owned land, in addition to regulating registration.




Further budgets will also be allocated toward public buildings in the already established areas in the community in relation to its size and according to its needs: These will include sports fields, multipurpose structures and budgets for the renovation and expansion of existing buildings. Overall, the budget for public structure work will be 710 million shekels.

Galant was quoted saying, "Over the next 20 years, the Arab sector will require 200,000 apartments. During the last few weeks, we have made it a point to work side by side with the Arab leadership in a quick, transparent and equality-conscious process, the effects of which will shortly be visible on the ground. Strengthening the Arab sector is a national interest."

Gamilel, who initiated a multifaceted plan to improve different aspects of Israeli Arabs' life, said, "This response is no less than a revolution regarding the existing housing crisis in the Arab sector. The agreement was achieved after a great deal of strenuous joint work between the Ministries of Construction and Social Justice, and it will be the foundation for economic growth and minimizing social gaps."

Galant added, "There is a real opportunity here to bring about justice and give hope to the children living here. A country that expects loyalty must create equality. Next time (we come), we will inaugurate the projects that will be established thanks to this program and help make them reality."