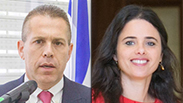 L to R: Gilad Erdan and Ayelet Shaked
Photos: Ido Erez and Ohad Zwigenberg
Shaked and Erdan meet with Facebook heads to remove posts inciting anti-Semitism
Justice Minister Ayelet Shaked (Bayit Yehudi) and Minister of Information Gilad Erdan (Likud) met with several heads of Facebook on Monday to request that the global social media platform remove all posts in which words such as 'Intifada,' 'Nazis,' 'stabbings,' 'shahids, 'death to Jews' and 'death to Arabs' appear, claiming that such language incites terrorism.
Due to a rise in independently executed "lone wolf Intifada" terrorist attacks over the past few months, Justice Minister Ayelet Shaked (Bayit Yehudi) and Minister of Information Gilad Erdan (Likud) are due to meet with Facebook Vice President of Public Policy Joel Kaplan, Facebook Head of Global Policy Management Monica Bickert and Facebook's Head of Policy and Communications Jordana Cutler on on Monday.

They are meeting in an effort to contain and minimize online anti-Semitic incitement. The two ministers were looking to do so by having Facebook remove such terms as "Intifada," "Nazis," "stabbings," and "shahids," "death to Jews" and "death to Arabs," which they claim can and do incite terrorism.

Law enforcement bodies in Israel have been working with Facebook representatives over the past few months in an effort to monitor inciting content. So far, Facebook's response has been largely positive and accommodating, removing many posts Israel's law enforcement has deemed hateful, though there have also been instances when it did not.

Currently, Facebook adheres to its own rules and regulations regarding issues of hate speech and freedom of speech, only removing posts that it deems as inciting. Such content includes: calls to commit murder, abduction, and other crimes, as well as posts that celebrate them. Despite this, Facebook does allow users to post things which include, for instance, instructions on how to become a shahid, instruction videos explaining how to carry out a stabbing attack and imams delivering inciting and hateful sermons.

As a result of Facebook adhering to its own regulations surrounding freedom of speech, MKs like Revital Swid (Zionist Union) have begun promoting bills to force Facebook to remove posts the State of Israel found to incite group hate. The bill stipulates the attorney general could issue an order companies like Facebook or Google to remove content that constitutes a criminal offense and a real threat to the safety of an individual, the public or that state.
Shaked: Israel is engaging in 'a defensive democracy'
Shaked and Erdan also met with several heads of Facebook Six months ago, during which they stressed the link between online incitement and carrying out recent acts of terror. Regarding this claim, it should be noted that while many believe individual attacks are personally motivated, some have begun to view one-time terrorists as part of a larger scheme, lead by terrorist organizations such as Hamas, which have become better at covering their tracks.

"We are engaging in 'defensive democracy,'" said Shaked. "It would have been better if such a law wouldn't have been necessary, and internet services providers would act more responsibly. Terrorist groups are now using the internet in unacceptable ways, and we have to halt them quickly and efficiently by updating our existing legislation. Israel is at the forefront of the fight against terrorism and it cannot fall back on legislation concerning hurtful content."

Erdan added that "A large part of the terrorists during the last wave were inspired by acts of incitement on the web. Unfortunately, since Facebook seems to be in no hurry to remove inciting content on its own, and since only some of the police's requests to remove such content are accepted, this law is essential to allow law enforcement the necessary tools to remove content that could lead to terrorism and murder."
UN Anti-Semitism conference finds 60% of hate posts from US
Reflecting the large-scale of online hate speech, a recent UN conference dealing with digital anti-Semitism recently found that some 250,000 anti-Semitic posts are made public across social media platforms every year.

The conference was lead by Israel's UN Ambassador Danny Danon (Likud) and US ambassador Samantha Power. It included senior academics, international media companies and fellow ambassadors. Participants discussed the influence that online, anti-Semitic incitement has on the public, ways to monitor such actions and using advanced technology to combat it.

Vigo CEO Raviv Tal, whose company monitors and looks into social media phenomena, gave presentation on the subject at the conference. He noted that every hour, an average of two anti-Semitic posts are put up that call for violent action against Jews, which represent 7% of all anti-Semitic posts, and another 18% of anti-Semitic posts depict Jews as devil worshippers. 75% of anti-Semitic posts were found to be written by young, white men, 60% of anti-Semitic content is written in the US, 25% in Europe and the rest in Arab countries.

Anti-Semitism was found to be the third largest form of group anti-black hatred and homophobia. Despite their prevalence, though, social media platforms do not remove hateful posts targeting entire groups unless an official complaint is filed. Tal explained that according to their data, social media networks tend to ignore such complaints, since hate-mongering posts are likely to generate more traffic, which in turn creates more income for the company that supplies them with a public platform.