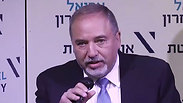 Minister Lieberman.
Photo: Asaf Magal
Lieberman: Government must back soldiers, despite their occasional errors
Speaking at Ariel University, Lieberman addresses ongoing trial of Sgt. Elor Azaria: 'I hope the military court will manage to ignore the noise and rule in accordance with the facts; we will support him even if he made a mistake.' Calls on PM to adopt principle of 'land exchanges.'
Defense Minister Avigdor Lieberman spoke Monday evening at Ariel University, answering questions from students and local residents. He began his speech by talking about Sgt. Elor Azaria, who is currently on trial for manslaughter after being filmed in March shooting the already-neutralized Palestinian terrorist Abed al Fatah al-Sharif to death in Hebron.
"We should all – media people, public figures, and politicians as well – remember: Any person who has not been convicted in court is innocent. Especially when we are speaking about soldiers who are under pressure (and experiencing friction with) a hostile population."
"We must understand that maybe one of them makes a mistake. They're only 18-19 years old, and a year's grind produces results. Convicting before the trial is absurd. Sadly, many – in the political ranks as well – already convicted him before the trial. With us, its all backwards," he continued. "My call to the public at large and the military establishment is this: Do not convict in advance. A military judicial system has to rule without pressures, and I expect the military court to rule in accordance with the facts, regardless of the pressures from left and right and (ignoring) background noises."
Lieberman also said that Azaria deserved support whatever the conclusions of the legal proceeedings "We will stand by the soldier even if he made a mistake. We are committed to giving him all of the help (we can). It cannot be that soldiers in uniform become objects of politicians' attacks. People in uniform are the emissaries of the people of Israel."
The defense minister also called on Prime Minister Benjamin Netanyahu to adopt the fundamental principle, for any future agreement with the Palestinians, of land swaps. "Why does the 'Triangle' (a group of Arab downs adjacent to the Green Line) and Umm al-Fahm need to be part of Israel?," he asked the audience. "Why do I need to subsidize Raed Salah and pay the salary of Hanin Zoabi? I do not understand why the prime minister will not adopt the core principle. The time has come for him and Likud to adopt the principle of land exchanges."
This was Lieberman's first such Q&A since becoming defense minister in May.