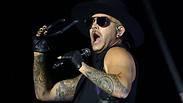 Queen concert in Tel Aviv.
Exciting tributes, a new lead singer with plenty of charisma, and some affection for Hebrew were just part of Queen and Adam Lambert's concert in Tel Aviv on Monday night, attended by over 50,000 delighted fans at the Yarkon Park in Tel Aviv. Lambert was, of course filling in for late band lead singer Freddie Mercury, who passed away in 1991.
Follow Ynetnews on Facebook and Twitter
During the show, which lasted over two hours, the legendary rock band performed its greatest hits, accompanied by impressive light effects and video clips of Mercury, who would have turned 70 last week.
Queen performs in Tel Aviv. (צילום: אלי סגל)
The legendary rock band opened with the song Seven Seas Of Rhye and Keep Yourself Alive before screaming at the audience 'Tel Aviv!' After warming up the crowd with four less well-known songs, the band played the 1978 classic,Fat Bottom Girls.
Lambert called for the Tel Aviv crowd to get its buts on bycicles, preparing those in attendance to hear a performance of Bicycle Race, but instead pivoted to sing Don't Stop Me Now, another one of the band's greatest hits.
Then, a giant chair was placed on stage, and the band went on to sing Killer Queen. Lambert then showed some Hebrew knowledge, saying "Lechaim" (cheers) to the crowd before taking a drink of water. "Erev tov" and "Toda raba" ("Good evening, and "thanks very much"), he continued.
Queen performs in Tel Aviv. (צילום: אלי סגל)
Lambert continued to hold the crowd in the palm of his hand, asking how many of them were in love. He then said he had no life partner, asking if anyone could find him Somebody to Love. Guitarist Brian May then gave some affection to the Israeli audience, crying out "Shalom" and " Salam alaikum " ("Hello" in Hebrew and "peace be upon you" in Arabic). He even took photos with some excited fans.
He then said he heard that Israelis were quite good at singing, and began a solo rendition of the ballad Love of My Life. He asked for the crowd's help, saying it was for Freddie Mercury. While the crowd sang, the video screen showed an old Mercury performance of the song. May then presented drummer Roger Taylor, who came up front and sang These Are The Days Of Our Lives, again accompanied by Mercury videos.
Queen performs in Tel Aviv. (צילום: אלי סגל)
The band dedicated the next song to another friend, and began playing Under Pressure, a Queen song written and performed in cooperation with legendary singer David Bowie, who passed away in January. A recording of Bowie's voice could be heard during the song's performance. Then, Lambert returned to the stage and sang Crazy Little Thing Called Love, continuing on to Another One Bites The Dust and I Want It All.
May then transitioned to a long instrumental verse, which eventually morphed into a rock version of Hava Nagila. The band then performed Who Wants to Live Forever and The Show Must Go On. Lambert excited the crowd by inserting the words "I've fallen in love with Tel Aviv" into the song I Want To Break Free. Then, it was the turn of legendary ballad Bohemian Rhapsody, with another Freddie Mercury video accompanying the song. At its peak, fireworks lighted the night sky.