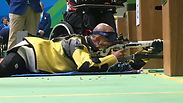 Shaziri in action.
Photo: Keren Isaacson
Israel won its second medal at the Rio 2016 Monday, with Doron Shaziri taking home the bronze in the men's three-stage shooting at a distance of 50 meters competition. Rower Moran Samuel was the first Israeli Paralympian to medal in Rio 2016, winning bronze in rowing on Sunday.

Shaziri, 49, is considered one of the veteran athletes of the Israeli delegation and one of the top competitors in his field worldwide. He has won seven Paralympic medals in the past: Four silver (two in Atlanta 1996, one in Beijing 2008 and one in London 2012) and three bronze (one in Sidney 2000 and two in Athens 2004).

"Of course I'm excited. This was a weak competition for me and still I managed to stand on the podium. It's a lot of mental work, and I needed the quiet to (make good shots). I know that I'm still missing gold in my career, and I've always said that as long as I have the strength I'll go on; and another Olympics isn't out of the question…I'll be glad (to see) another member of the delegation achieve a medal, because we want as many as possible," he said.