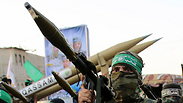 Hamas terrorist (Photo: AP)
Photo: AP
The Israeli authorities arrested in August a 24-year-old Gazan man who was attempting to smuggle explosives and weapons-making materials into the strip, it was cleared for publication Tuesday afternoon.

The man, Hamis Jahed Said a-Raishi, was caught by the Israeli Navy while attempting to smuggle the materials in by boat. During questioning by the Shin Bet, it was revealed that he had been performing smuggling operations on behalf of Hamas and other Gaza-based terror groups since 2012.

In 2014, the suspect also planned to carry out an attack against IDF soldiers in the area close to Zikim Kibbutz in southern Israel and even acquired weapons to that end.

Information gathered during the investigation also shed light on Hamas water smuggling routes and how the terror organization exploits seemingly innocuous fishermen, permitted to enter Israeli-controlled waters, for their operations and terrorist activities in Gaza.