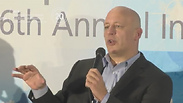 PM's envoy: Hamas rejected offer to swap MIA soldiers for all their prisoners
Special hostages and missing persons coordinator Lior Lotan says Israel offered to return to Gaza 18 Hamas prisoners and 19 bodies of its fighters, all captured during Protective Edge, in return for Hadar Goldin and Oron Shaul, but the Gaza terror organization set preconditions.
Lior Lotan, the prime minister's envoy on hostages and missing persons, said on Tuesday that Hamas has rejected several offers to swap all of its men captured—both dead and alive—during Operation Protective Edge in exchange for the remains of Israeli soldiers Hadar Goldin and Oron Shaul.

The two soldiers were killed during the 2014 campaign in the Gaza Strip and their bodies were captured by Hamas.

"At the end of Protective Edge, Israel had 19 bodies of fallen Hamas fighters and 18 prisoners, captives who later were sentenced to prison terms—the longest of them being 16 and a half years," Lotan said, speaking at the World Summit of the International Institute For Counter-Terrorism (ICT) at the Interdiciplinary Center in Herzliya (IDC).

"Hamas, on the other hand," he continued, "has two bodies of fallen IDF soldiers who were killed in Saja'iyya and Rafah."

"Since end of the war, Israel has been operating through many channels to bring our boys home," he added.

"Since that time, other Israeli citizens have crossed to Gaza," he said in reference to Abera Mengistu and Hisham al-Sayed. "These are sick people, suffering from mental exhaustion, who crossed over into Gaza and are being held by Hamas to this day. Hamas officials are aware of the distress that these civilians are in. This is not a security matter. Israel has found ways to send Hamas proof that this is a humanitarian, personal, humane matter—not a security matter."

Lotan went on to detail another offer made to Hamas "to return to Gaza all of the civilians who are in Israel—people who crossed into Israel of their own accord. And of course, we expect to get our civilians who crossed over to Gaza in return."

Lotan explained that these offers are not unusual. "These things are accepted norms in the world. At the end of every conflict, the sides exchange captives and missing persons—that's the norm. It was also done in our region, between Israel and Hezbollah—both before and after the Second Lebanon War. In unprecedented fashion, Hamas has refused this offer, and even put forth a precondition for the continuation of the discussions: resolving a case of prisoners who were not from the Gaza Strip at all and have no connection with the Protective Edge war at all. Of course, we cannot abide a precondition. It's not right practically speaking, and it's not right professionally speaking."

Israel is not officially negotiating with Hamas for the return of the remains of soldiers Hadar Goldin and Oron Shaul, and the return of civilians Abera Mengistu and Hisham al-Sayed. However, it is conducting unofficial talks with the organization through back-door channels and intermediaries, trying to at least reach some understanding that might allow for the beginning of official talks.