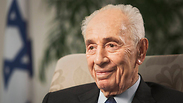 Former president Shimon Peres
Photo: AP
Israel's ninth President and former Prime Minister Shimon Peres passed away overnight Tuesday at the age of 93.

Peres, one of Israel's most prominent politicians and diplomats, who played a major role in the nation's history from its very inception and was a big proponent of the peace process, had suffered a stroke two weeks ago. He was in a medically-induced coma until his passing.

His family members rushed to the hospital Tuesday afternoon to say their final goodbyes.

His son, Chemi, confirmed his death Wednesday morning to reporters gathered at the hospital where Shimon Peres had been treated for the past two weeks.

Peres' condition worsened following a major stroke two weeks ago that led to bleeding in his brain. He was sedated and on a respirator during most of his hospitalization.

"Today with deep sorrow we bid farewell to our beloved father, the ninth president of Israel," Chemi Peres said.

"Our father's legacy has always been to look to tomorrow. We were privileged to be part of his private family, but today we sense that the entire nation of Israel and the global community share this great loss. We share this pain together."

Prime Minister Benjamin Netanyahu issued a statement mourning the passing of Peres. He said he will convene his Cabinet for a special session later in the day.

Peres was rushed to the Sheba Medical Center on September 13 after consulting with his doctor and informing him that he was feeling weak.

An initial CT scan showed a brain hemorrhage, and the doctors decided to sedate the former president as he underwent medical treatment in the ICU. A second CT scan to further assess his condition showed no improvement.

On September 27, Peres's doctors determined that the neurological damage caused by the stroke was "irreversible."

He was hospitalized at the Sheba Medical Center for two days about six months ago with slight heart arrhythmia. Two weeks later, he was hospitalized with a very minor heart attack. He went through a successful catheterization procedure, and returned home after five days.

Throughout the years, Peres served in almost every senior post in Israel's leadership. In addition to serving as president and prime minister, Peres at times was also Israel's defense minister, foreign minister and finance minister, among other roles.

Peres was born Szymon Perski in 1923 in Vishnyeva, Belarus, which at the time was part of the Second Polish Republic, to a wealthy secular family. His father Yitzhak was a timber merchant, while his mother Sara was a librarian and a teacher of Russian.

The family immigrated to the Land of Israel in 1934, where Peres studied at Balfour Elementary School and High School and the Geula Gymnasium (a high school for commerce) in Tel Aviv. At the age of 15, he transferred to the Ben Shemen Agricultural School. In the 1950s, he studied at New York University and later at Harvard University.

Between the years 1941 to 1944, Peres served as the national secretary of the "Working and Learning Youth" group. It was while serving in this post that Peres became acquainted with the heads of the Jewish settlement in Palestine and became David Ben-Gurion's political protégé.

In 1947, Peres joined the Haganah, where he was responsible for personnel, defensive acquisitions and military research. In 1949, he was appointed the head of the naval service in the Defense Ministry, and in 1950 he was made the director of the Defense Ministry's delegation in the United States.

In 1952, Peres returned to Israel and was appointed the deputy director-general of the Defense Ministry. A year later, he was made the director-general. It was as part of this role that he promoted the construction of a nuclear reactor in Dimona, helped develop Israel's aviation industry (which later went on to become the Israel Aerospace Industries), and played an instrumental role in establishing close relations with France.

In 1959, he was elected to the Knesset as a member of Mapai and was appointed the deputy defense minister.

In 1965, he left Mapai to join Ben-Gurion's new party, Rafi (Israeli Workers List). He was appointed the party's secretary-general and served as a Knesset member. In 1967, he broke away from his patron Ben-Gurion and played a central role in uniting Rafi and Mapai to form the Alignment, that would go on to become the Labor party.

In the Knesset's seventh term, Peres served as the minister of immigrant absorption and as the minister of transportation and communications. He was also tasked with economic development in Judea and Samaria.

In the Knesset's eighth term, Peres served as the information minister. Following Golda Meir's resignation in the aftermath of the Yom Kippur War, Peres challenged Yitzhak Rabin for the chairmanship of the Alignment (Labor) party, but lost. This was the beginning of a long, bitter political rivalry between the two, who later became partners when Rabin was elected prime minister for the second time in 1992.

In 1974, Peres was appointed the defense minister in Rabin's first government, replacing Moshe Dayan. In 1976, it was Peres who pushed Rabin to approve Operation Thunderbolt, later known as Operation Entebbe, to release the hostages of an Air France flight.

In 1977, after Rabin stepped down in the wake of a foreign currency scandal involving his wife, Peres was appointed acting-prime minister, while also being elected the chairman of the Alignment (Labor) party, a position he kept until 1992.

Under his leadership, the Alignment (Labor) party lost the premiership for the first time in the young country's history in 1977 to the Likud party, led by Menachem Begin. Peres lost to Begin again in 1981.

After the 1984 elections, Alignment and Likud formed a unity government, and Peres was appointed prime minister for two years, after which he was replaced by Yitzhak Shamir as part of a "rotation arrangement."

During his term as prime minister, the IDF withdrew from Lebanon, save for a security strip in Southern Lebanon based on local Lebanese forces (The South Lebanon Army). In addition, he worked with then-finance minister Yitzhak Moda'i to implement the Economic Stabilization Plan, which saved the Israeli economy from collapse and reduced the hyperinflation that reached 400% a year.

In 1987, Peres negotiated a peace agreement with Jordan's King Hussein, which included a joint Israeli-Jordanian administration of the West Bank. However, then-Prime Minister Shamir rejected the deal, known as the "London Agreement," out of hand.

In 1988, in the second unity government, Peres served as the deputy prime minister and finance minister. In 1990, Peres attempted to form a narrow government made up of the left-wing factions and the ultra-Orthodox parties. But the move, known as "The Dirty Trick," failed when the ultra-Orthodox parties backed out, leaving Peres no choice but to resign from the unity government. This sent his party back to the opposition.

Ahead of the 1992 elections, the Labor replaced Peres with Rabin as chairman of the party. Despite their long-term rivalry, Rabin, after winning the elections, appointed Peres to be his foreign minister. It was in this role that Peres held secret negotiations with the Palestinian Liberation Organization under Yasser Arafat, which eventually led to the Oslo Accords. He also played a role in securing the peace agreement with Jordan.

For their diplomatic achievements, Peres, along with Yitzhak Rabin and Yasser Arafat, received the Nobel Peace Prize on December 12, 1994.

After Rabin was assassinated on November 4, 1995, Peres became the acting prime minister, as well as the defense minister and the economy and planning minister. In 1996, Israel held elections once more—this time voting directly for prime minister. Peres, who ran against Likud Chairman Benjamin Netanyahu, lost by a small margin.

In 1996, Peres founded the Peres Center for Peace, with its declared goal to promote a "New Middle East."

In June 1997, Peres decided not to run for reelection of the Labor party chairmanship, and was replaced by Ehud Barak. Despite the rivalry between the two, after winning the elections for prime minister in 1999, Barak appointed Peres as his minister of regional cooperation.

In 2000, Peres ran for president of Israel, but lost to Moshe Katsav. In March 2001, he was appointed the foreign minister in a unity government headed by Ariel Sharon, the then-Likud prime minister. In June 2003, Peres was elected the interim chairman of the Labor party after Amram Mitzna's resignation and served as the head of the opposition. In January 2005, when the Labor party joined Sharon's government, Peres was appointed deputy prime minister.

In November 2005, Peres lost the party chairmanship to Amir Peretz. Several weeks later, he left the Labor party and joined Ariel Sharon's new party, Kadima.

Peres was elected to the 17th Knesset in the March 2006 elections after being placed in the number two spot on the Kadima party list. In May 2006, he was appointed deputy prime minister and the minister for the development of the Negev, Galilee and regional economy in Ehud Olmert's government.

Seven years after losing his first bid for the presidency, Peres announced in early June 2007 that he would run again—this time against Labor MK Colette Avital and Likud MK Reuven Rivlin. Peres won this election and became Israel's ninth president.

Even while serving as president, a mostly ceremonial position, Peres kept working to promote peace. In 2008, he was made an honorary Knight Grand Cross of the Order of St Michael and St George by Queen Elizabeth II. In 2012, he received the Presidential Medal of Freedom from US President Barack Obama. His seven-year term as president ended in 2014, and he was succeeded in this role by Reuven Rivlin.

Peres was married to Sonya Gelman Peres for 75 years, until her death in 2011. The couple had three children.

AP contributed to this report.