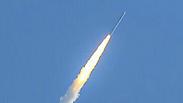 The Ofek 11.
Photo: Shuki Cheled
Approximately two weeks following the failure of the Amos 6 satellite, which exploded on the ground in Cape Canaveral, Israel Aerospace industries and the Ministry of Defense successfully launched the Ofek 11 satellite into space on Tuesday from Palmachim Airbase near Rishon LeZion. However, it turned out later in the day that the satellite's systems may be malfunctioning.

The Ofek 11's launch, Tuesday.

"There are indications according to which things aren't working as we expected, and so we are trying to stabilize (the satellite). There are things that make us worried. The satellite orbits the earth once every hour and a half. It's possible that some systems are not in the correct condition," officials told the press Tuesday.

Since the Ofek 11 is an observation satellite, as opposed to a communication satellite, it is not constantly accessible to crews on the ground. Moreover, since the operators only have access to it for short periods once a day, it will take some time—perhaps a few days—until they know if it will ultimately prove to be a success.

If the Ofek 11 does maintain enough of its functions to be useful, it will mainly serve the IDF and other security organizations in Israel. Its observation systems were designed to surpass those of previous iterations in the Ofek satellite series.