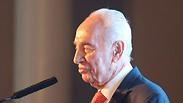 Peres fighting for his life
Former President and Prime Minister Shimon Peres's condition is serious, but stable following a stroke on Tuesday.

In an update to the press Wednesday afternoon at about 3:40pm, Prof. Yitzhak Kreiss, Director of Sheba Medical Center, said that the statesman's condition had slightly improved, but warned that his condition was still very serious. They stated that he would remain in the neurological intensive care for the next 24 hours.

Prof. Kreiss updating the press

Earlier in the day, Kreiss and Prof. Rafi Walden, personal physician and son-in-law of Shimon Peres, announced, "When there was a pause in the administration of anesthetic drugs, we realized that he is responsive and probably attentive to what we tell him. He squeezed our hands."

Peres' family continues to be by his side at the hospital

In a statement Wednesday morning, Prof. Yitzhak Kreiss said, "Mr. Peres made it through the night safely. His condition is stable. Serious, but stable. We are moving him to the intensive care unit of the neurology department for further treatment and observation. He is still under the supervision of a multidisciplinary team of experts and will undergo another assessment in the afternoon. We are in close contact with the family, which has accompanied him and not left his bedside. We are sharing all decisions with the family."

Walden, said, "I would first of all like to express deep appreciation to the wonderful team at Sheba, which diagnosed the problem from every possible angle and made great (treatment) decisions. The family is obviously in the picture and we are at his side. We were happy to see that when there was a pause in anesthetic drugs, we realized he was responsive and probably attentive to what we tell him."

"Now, to ensure that his condition remains stable, he is sedated once more so he doesn't over exert himself. The next attempt we make at waking him up, I hope we will be able to communicate more with him. At the moment, he is stable and we will continue to be by his side. We call on all of Israel to join us in hoping and praying for his recovery," Walden added.

Peres suffered a stroke on Tuesday evening and was rushed to Sheba Medical Center earlier in the day after consulting with his doctor and informing him that he was feeling weak.

An initial CT scan showed a brain hemorrhage, and the doctors decided to sedate the former president as he undergoes medical treatment in the ICU. A second CT scan to further assess his condition showed no improvement.

International worry over the health of the former president has included former US President Bill Clinton expressing his well wishes for his ailing former counterpart.

Clinton has called the Peres family repeatedly, inquiring as to Shimon Peres's wellbeing. Clinton and Peres worked together on the Oslo accords.

Former UK Prime Minister Tony Blair even called the family to express his well wishes for former President Peres's speedy recovery

.

Bill Clinton speaks at Peres's 90th birthday

Health Minister Yakov Litzman visited the hospital wing where Peres is hospitalized at Sheba Medical Center at Tel HaShomer on Wednesday.

He said "we can be a bit more optimistic today than last night", as he was leaving the hospital.

Litzman added that "we are continuing to pray for the recovery of Shimon Peres, Israel's ninth president. I was in the ward in Sheba, such a special hospital, to asses the situation. The medical staff and nurses told me that they consulted with well known doctors outside of Israel, and that these doctors agreed with the form of treatment being provided."

"I'm not a doctor, nor am I a medical expert," the health minister then went on to say. "I can only say that the treatments are very special and together I hope, God-willing, that Peres will return to us."

Doctors continued to work into the night and after conducting a series of tests, they detected bleeding of the brain. By the late evening, they were deciding on whether it was necessary to perform surgery or not.

Prime Minister Benjamin Netanyahu has spoken to the head of the Sheba Medical Center and received an update on Peres's situation.





"I wish former President Shimon Peres a speedy recovery. Shimon, we love you, and the entire nation prays for your recovery," Netanyahu wrote on social media.

Interior Minister Aryeh Deri added prayers of his own in the traditional Jewish manner of invoking his mother's name, writing on Twitter, "I pray for the recovery of Shimon, son of Sarah, the former president and prime minister of Israel."

Defense Minister Avigdor Lieberman wrote on his Facebook page, "We are all praying for the wellbeing of former president Shimon Peres and hope that he will, once again, prove that he knows how to come back from difficult situations."

Meanwhile, Opposition chairman Isaac Herzog, who lead the Labor party in which Peres spent most of his political career, arrived at the hospital to visit the former president.

Israel's Ashkenazi Chief Rabbi David Lau called on the public to pray for Peres, saying "Mr. Peres has earned many credits in his many years of service to the people of Israel (in working to) strengthen the security of the State of Israel from its day of formation, and it is appropriate for everyone to join the prayer for his recovery at this time."

The Sephardic Chief Rabbi, Yitzhak Yosef, also called to pray for Peres, saying, "To his credit is the saving of the world of Torah by establishing the exemption (from IDF service) to yeshiva students and his great appreciation to the Torah."

His son Hami said, "These are not easy hours for me or my family. My father has suffered, as you know, complications and I want to thank, first of all, the medical team at Tel Hashomer which is checking him and advising us. It seems that we will soon be required to make decisions but not at the moment. Everything depends, of course, on how things develop and we can't say any more than this."

"We are receiving many messages both from Israel and outside Israel, from all of our friends and from the people who love and know about this man and they are many," he continued. "My father is a special person and I remain optimistic. I believe and hope for the good."