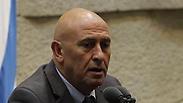 Arab Knesset Member Basel Ghattas (Joint Arab List) attacked former President Shimon Peres in a Facebook post in Arabic on Wednesday as Peres lies unconscious and fighting for his life in a hospital bed after suffering from a stroke.

"Let us remember in his death his true essence as a tyrant," Ghattas's post said. "He was directly responsible for various atrocities and war crimes which he committed against us…He is completely covered with our blood."

The Arab MK continued, saying "Is Peres's inevitable end coming close? We don't know. He has seven lives. But he is, without doubt, on his final journey. We must remember that he is one of the pillars of the arrogant, imperialist Zionist enterprise, and of the settler enterprise, along with being one of the most heinous, most brutal, and oldest in terms of age and results. He is the one who inflicted the most damage and brought a plethora of disasters to the Palestinian nation and to the Arab world. Yet despite all of this, Peres is viewed as a dove, and even won the Nobel Peace Prize."

Peres would not have been able to achieve this, Ghattas claimed, "without the direct and indirect help we gave him throughout his life. We should not rush to support this festival of sadness and collective loss to the tribe."

MK Yoel Hasson (Zionist Union) came out in Peres's defense, responding that "before Basel Ghattas opens his mouth to say Peres's name, it might be worth it for him to take his immense contribution to Israeli-Arab society in particular and Israeli society in general into consideration. You are someone who doesn't come to Knesset meetings, even to just warm up your seat. You're a man who has scammed the Israeli-Arabs, abandoned them, and have worked unceasingly to strengthen Palestinian terrorists."

Hasson continued, asking "when was the last time Ghattas worked to advance education in the Arab sector? When did he ever care about those who have been injured by violence, the lack of proper infrastructure, or the dearth of public transportation in Arab communities?"

"Basel Ghattas is a festival of disgust and shame, a festival of provocation, evil, and shame, and a loss to his constituents. Even if Ghattas lives for 300 more years, he wouldn't even be able to come close to the amount of good which Peres did for the Israeli-Arab community."

MK Itzik Shmuli (Zionist Union) also came out swinging against the comments, according Ghattas of self-promotion and a provocateur: "Ghattas is a small and wretched man and all his contribution to politics has amounted to sowing hatred and strife between people, support for terror and cheap provocation for his own self promotion. He is not worthy at all of even mentioning Peres's name from his mouth."

Similarly, Deputy Knesset Chairman MK Meir Cohen also joined the rejection and issued his own attack against the comments: "Basel Ghattas is a despicable person in the public domain. Comments such as these by haters of Israel have blackened our name around the world. He is a person who lives here and enjoys the fruits of the state but is constantly bashing it," Cohen said. "And if that is not enough, he chooses to curse one of the greatest symbols of peace in the world. I hope that we will find the way to remove people like Ghattas from our parliament."

He went on to say that he was consoled by the fact that Ghattas does not represent the vast majority of the the Arab public, but the "despicable extremists among them."

He called upon the head of the Joint List to condemn Ghattas's inflammatory statements, before recalling a personal encounter with Peres during which the former president implored him to ensure the wellbeing of the Arab community.

"I will tell you, Ghattas, that in my time as minister of welfare, Peres invited me to his office and asked me to utilize massive resources for the benefit of the Arab sector. He urged me to 'Make sure that not another Arab child will go hungry,'" Cohen concluded.