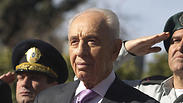 Peres's doctor: improvement in alertness and responsiveness
One of the doctors treating former president Shimon Peres after he suffered a stroke said Thursday that while he remained in serious condition and danger still existed, his return to consciousness was 'extremely significant and may enable recovery in the future.'
Shimon Peres remains in serious condition for a third consecutive day in Sheba Medical Center at Tel HaShomer after suffering a stroke on Tuesday night.

The former president's office provided an update on Thursday morning on the latest developments on his medical situation.

Wednesday night, the statement said, was a "quiet night. There is no change in his situation and he is continuing to receive the treatment decided upon by the doctors. Another medical consultation is expected later today."

Director of the neurosurgical unit in the hospital, Dr. Ze'ev Feldman, who is treating Peres also provided a brief update which gave a glimmer of hope.

"Yesterday his situation and his alertness improved and his responses were better. This pattern is also continuing today," Dr. Feldman said. "He is still being treated by the emergency neurosurgical unit. The treatment includes the continuation of optimal conditions for recovery and we hope that this treatment and the efforts that we are undertaking will bear fruits in the future."

Notwithstanding the moments when doctors conduct checks on Peres, he remains sedated. While Dr. Feldman said that it was still very early after the incident, "the fact that he returned to consciousness is extremely significant and may enable a recovery in the future and a return to fuller functionality, as opposed to a person who remains unconscious and cannot communicate. His situation is still serious but stable and the danger still exists considering his situation and age."

Prime Minister Benjamin Netanyahu visited Peres in the hospital for the first time since the stroke on Wednesday evening and discussed his medical state with the doctors and family members. "I was impressed that there is an exceptional team taking care of an exceptional person. Peres has great vitality, he is young and energetic and there is hope," Netanyahu said after the visit. "We will all continue to hope, pray and trust you," he added.