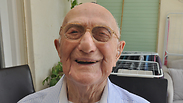 A week before Rosh Hashana 1916, a young Israel Kristal turned 13. But in his town of Maleniec, Poland, no one had the time or the energy to celebrate the young man's Bar Mitzva, especially in light of the fact that World War One was raging all around them, and his father had been kidnapped by the Russian Army to go serve on the front lines, leaving him in the sudden care of his uncle.

As the months and years passed, Kristal didn't have much time to ponder his missed Bar Mitzva. He lost his father in the war, and at 16 had to work to support himself.

He started a family - which he lost in Auschwitz, re-married to another Holocaust survivor, moved to Israel, and brought two children into the world.

By 2014, Kristal was recognized as being the world's oldest still living Holocaust survivor, and six months ago in 2016, was put in the Guinness Book of World Records as the world's oldest living man.

Today, Thursday, September 15, 2016, Kristal is celebrating his 113th birthday, and his family has decided to help him fulfill one of his oldest dreams.

In 10 days, on Kristal's Hebrew birthday, he will finally be able to celebrate his Bar Mitzvah – 100 years late. He will go up to read from the Torah at his neighborhood Synagogue Haifa – the city he has been living in since he made aliyah.

So how does one celebrate a Bar Mitzvah 100 years late?

"Just like the Orthodox do!" his daughter Shula said. "We'll celebrate his going up to the Torah in the Synagogue, we'll throw candy at him, and we'll dance and celebrate."

She said that Yisrael himself is really excited and happy. "I'm happy that I can make him happy, and I'm happy that he's able to do this. It's hard to believe it, and I'm very thankful for this opportunity."