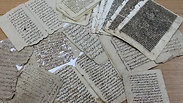 Documents
Photo: National Library
A rare collection of 250 documents from the 11th to the 15th century was purchased by the National Library and reveals for the first time the main trade routes of the Silk Road, which stretched from the Far East to Europe. The collection, dubbed the Second Afghan Genizah, was found several years ago in caves in the city of Bamyan in central Afghanistan. The find is considered an ancient and rare treasure from which scholars can learn much about life in ancient Jewish and Muslim communities in Persia and Afghanistan before the Mongol conquest.
Most of the texts were written by Jewish and Muslim merchants who lived in the period preceding the destruction the Mongol armies wreaked from 1258-1260, when they were led by the grandson of Genghis Khan.
The documents shed light on subjects that so far have largely been unknown, such as the daily lives of merchants and communities along the Silk Road, customs, and social and economic relations of Jews at the time.
"This is an extremely impressive find as it relates to the lives and culture of Jews in the part of the world," explained Dr. Yoel Finkelman, curator of the Jewish National Library collection. "It is extremely rare to find documents that describe a community previously unknown. The research significance of these papers is much more substantial than other documents discovered in other communities."
The entire collection was written in Farsi, Arabic, Aramaic and Judeo-Persian. It contains local legal documents, theological, religious, and historical books and bible verses. Many of the documents belong to a family of key Jewish-Afghani merchants, probably headed by Abu Nasr who lived in central Afghanistan in the 11th century. Additionally, a section from the Talmud dealing with idol worship was included, which is the earliest evidence of religious literature in the Persian-speaking east.
Dr. Finkelman added, "We have pages of documents detailing the relationship and cooperation between Jewish communities in the area. We also discovered an undeciphered book documenting what the dealer sold and to whom. Everything we find about this community is new and exciting."
The physical integrity of the documents varies, with some being in good condition, while others are decaying. The process of preservation is set to begin in addition to a disinfection process in which oxygen is removed. The process will take several months, after which all the documents will be uploaded to the National Library's website for scholars and the public.
According to the director of the National Library, Oren Weinberg, "The Afghan Genizah will be added to the Jewish collection of the library and will significantly expand the Islamic and Middle Eastern collection."