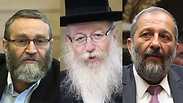 Gafni, Litzman and Deri
Photos: Gil Yohanan, Alex Kolomoisky & Ohad Zwigenberg
The heads of the Orthodox parties, the Health Minister Rabbi Yaakov Litzman, Interior Minister Rabbi Aryeh Deri, and MK Rabbi Moshe Gafni, have once again expressed strong protest over Tel Aviv infrastructure projects, which according to them, are unnecessary as they are not vital for saving lives. The main religious factions added that the work will be carried out on Friday night, even though it can be conducted any other night during the week.

In a joint statement released Thursday night, the three said, "Conducting work on Friday night is extremely serious and we strongly protest this attack on the honor of Shabbat."

Traffic police announced that starting Friday at 11:30pm, work will be carried out on the Savidor train station in Tel Aviv, located on the Ayalon Highway between the Halacha and Arlozorov interchanges. The work is expected to last until 8:30am Saturday.

Out of the three projects scheduled for work on Saturday, one was cancelled by the Ministry of Labor and moved to another day in the middle of the week. Currently, there are two projects scheduled for Shabbat and the Ministry of Labor has dramatically cut the number of Jewish workers taking part.

Ultra Orthodox party leaders point out, "While the work and the amount of Jewish workers have been reduced, we still vehemently protest the conduct of the police, who are acting unprofessionally by enforcing work on Friday night, when it can be done on another day.

"It is unfortunate that this important decision was made without trying to prevent the holy Shabbat from being desecrated. We demand an immediate meeting with the chief of police to impress upon him the seriousness of things."