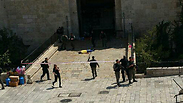 A Jordanian man attempted to stab a Border Police soldier at the Damascus gate in the Old City of Jerusalem on Friday following afternoon prayers.
Border Police soldiers opened fire on the man after he ran at them while yelling "Allahu Akbar." The man was neutralized. He did not cause any injuries in his attack, and has succumbed to his wounds.
He was found to be carrying a Jordanian indentification card, and had two knives in his possesion.
Scene of the terror attack
The Israel Police Spokesperson's Unit said that "the terrorist was a Jordanian resident, who was entering the Old City of Jerusalem via Damascus Gate. The Israel Border Police identified the suspect, and carried out the proper protocols. The terrorist quickly approached the officers with his hand raised and clutching a knife. The officers acted professionally, and identified him as an attacker, whereby they neutralized him.
The terrorist had a knife in each hand, and was found to have a third knife on his person.