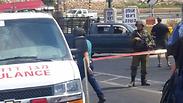 Two terrorists attempted to carry out a vehicular attack with a pickup truck on Friday afternoon at the Elias Junction, outside the entrance to Kiryat Arba.
The IDF Spokesperson reported that the terrorists, a man and a woman, were neutralized with gunfire from IDF forces and were critically wounded.
The man died at the scene, but the woman, in her twenties, is being treated for a gunshot to the abdomen.
The attackers, driving a Mitsubishi pickup truck, were aiming for persons standing by the bus stops.
Nobody aside from the attackers was physically injured. However, three teenagers who fled the oncoming truck were treated for shock.