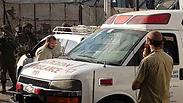 Gilber Checkpoint in Hebron following the stabbing attempt
A soldier was lightly wounded Friday in a stabbing attack at the Gilbert Checkpoint in Hebron. The terrorist has been neutralized by security forces. The event marks the first act of terrorism at the Gilbert Checkpoint since Sgt. Elor Azaria shot and killed an already the neutralized terrorist Abed al Fatah a-Sharif.
This is the fourth terrorist attack to take place within the last few hours. It was preceded by a stabbing attempt, in which a Jordanian man of around 20 years old was shot and killed after running toward Border Police at Jerusalem's Damascus Gate in an attempt to stab a police officer. No one else was injured in the attack.
Gilbert Checkpoint followng the stabbing incident (צילום: TPS)
A vehicular attack attempt also took place on Friday, when two terrorists—a man and a woman—tried to run over three Israeli teenagers with their car near Kiryat Arba. The man was shot to death and the woman was severely injured during the event, while the three boys were slightly injured. The woman terrorist's sister had reportedy tried in the past to carry out her own vehicular terrorist attack near Kiryat Arba.
In a third, seemingly unrelated incident, a bus driver was lightly injured from rock throwing along Route 1.
Dozens of Palestinians created distrubances aong the central and northern parts of the Gaza Strip Border by lighting tires on fire and throwing Molotov cocktails and rocks toward to the border fence. IDF forces shot one suspect who attempted to cross the border, who was seemingly hit, though the extent of his injuries and general codition are unclear.