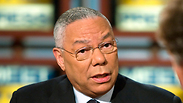 Gen. Colin Powell.
Photo: Getty Images
In a series of emails recently obtained by hackers and published by the site DCLeaks.com, former US Army general and secretary of state Colin Powell has claimed that Israel has 200 nuclear warheads in its possession.

"Iranians can't use one if they finally make one," Powell wrote to Democratic donor Jeffrey Leeds, a hedge-fund founder who serves on the board of the Colin L. Powell School for Civic and Global Leadership at the City College of New York, referring to the Shiite state's nuclear capabilities.

The email exchange between the two occurred in March 2015, and was conducted through Gen. Powell's personal Gmail account. Discussing a speech given by Prime Minister Benjamin Neyanyahu to a joint session of Congress, in which he expressed his staunch opposition to the Iran nuclear deal, Powell wrote, "The boys in Tehran know Israel has 200, all targeted on Tehran, and we have thousands."

Responding to an inquiry by the Associated Press on Friday, Powell said through a spokesperson that he was referring to public estimates of Israel's nuclear arsenal.