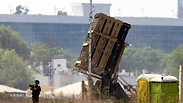 For the first time in the Golan Heights, the Iron Dome recorded two interceptions of projectiles fired from Syria toward the Golan Heights. No injuries or damages were reported. No alarm sounded before the system activated, leading to speculation that the interception was conducted over Syrian territory.

The projectiles fired Saturday are most likely spillover from internal fighting in Syria.

Saturday's interceptions mark the tenth high trajectory fire directed toward Israel from Syria in the last two weeks.

Head of the Golan Regional, Eli Malka lauded the deployment of the Iron Dome to the Golan, saying "The IDF is doing everything necessary to minimize spillover from Syria and to protect the residents and tourists of the Golan Heights."