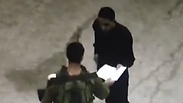 The IDF has sent reinforcements to the Hebron area on Saturday following a weekend surge in Palestinian attacks that shattered weeks of relative calm.
The buildup comes after footage showing a Palestinian pulling out a knife during a security check in Hebron earlier Saturday and attempting to stab a soldier, prompting forces to open fire and kill the attacker.
The incident came a day after several Palestinian attacks on Israeli civilians, police and a soldier.
In the first Friday attack, a man came out of Jerusalem's walled Old City brandishing a knife in each hand and shouted "Allahu akbar" as he rushed at the officers, who opened fire and killed him. The man had both a Jordanian and a Palestinian ID on him, police said.
Shortly afterward, two Palestinians rammed their car into a bus stop, wounding three Israeli civilians near a West Bank settlement. Security forces opened fire, killing one of the Palestinians and wounding the other.
A few hours later, at a junction near Hebron, a Palestinian stabbed an Israeli soldier, who opened fire and killed him, the military said.
Palestinians have carried out a wave of attacks, mainly stabbings, over the past year, killing 34 Israelis and two Americans. More than 200 Palestinians have been killed during the same period, most of them identified by Israel as attackers.
Saturday stabbing attack
The IDF said late Saturday it was sending a Kfir Brigade battalion to reinforce security in the area. This is the same battalion in which Sgt. Elor Azaria was serving in Hebron when he shot and killed an already neutralized terrorist.
Israel has blamed the violence on incitement by Palestinian political and religious leaders. The Palestinians say it is rooted in nearly 50 years of military occupation and dwindling hopes for independence from Israeli rule.
Hanan Ashrawi, a senior Palestinian official, condemned what she called Israel's "extra-judicial killings" of the attackers, but did not condemn the attacks themselves.