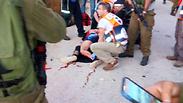 Scene of the attack
Photo: TPS
A Palestinian terrorist stabbed a reservist officer at a guard post in the settlement of Efrat early Sunday morning, following a weekend surge in Palestinian attacks that shattered weeks of relative calm.

Efrat, following the stabbing on Sunday. (קרדיט: tps)

The 30-year-old company commander in reserves suffered stab wounds to his upper body. He was taken to the Hadassah Medical Center in Jerusalem's Ein Karem in moderate-to-serious condition.

Other IDF soldiers who were on the scene shot and moderately wounded the terrorist, identified as 20-year-old Baha Aldeen Awda. He took was taken to Hadassah for further treatment.

IDF forces were searching the area for any possible accomplices.

At 1:42am Sunday, the settlement's electronic security system identified movement of a figure somewhere within 400 meters from the settlement. The settlement's civilian security squad along with military forces were sent to the scene to search for the suspicious individual. The system once again alerted to the presence of a suspicious figure at around 4am.

Efrat's security cameras identify the terrorist (צילום: ביטחון אפרת)

At around 6am, the assailant, who was hiding in the bushes, jumped out and stabbed the officer using two knives.