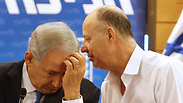 Netanyahu and Hanegbi. Not among the signatories/
Photo: Reuters
Twenty-five of the Likud Party's 30 Knesset members signed a petition on Saturday evening calling for the passing of a bill that would give the outpost of Amona legal standing.

Such a move would allow the residents of Amona to keep their homes, which were ruled by the Israeli High Court of Justice (HCJ) to be illegally built, since they were constructed on privately-owned Palestinian land.

The petition was started by activists against the evacuation of Amona, and was signed by 25 of the Likud's MKs on Saturday, nine of whom are also ministers. The five Likud MKs to not sign the petition are MKs Benny Begin, Avi Dichter, and Anat Berko, Minister Tzachi Hanegbi, and Prime Minister Benjamin Netanyahu.

"The bill is meant to regulate the homes of residents in a legal manner and prevent a moral, humane, and social distortion that would be created by the evacuation of hundreds and thousands of families who have built their homes with the support and assistance of various Israeli governments. The petition's signatories have committed to act in pushing this important and moral legislation," the petition reads.

The Knesset "regulation bill" has relevance beyond Amona. It seeks to retroactively legalize any Jewish structures built on privately-owned Palestinian lands—as long as they were built with no intention of breaking the law—while offering generous compensation to those who prove they are the lands' owners.

Current estimates say that the regulation bill's chance of being passed is slim. Attorney General Avichai Mandelblit has already given his opinion saying the bill in its currents formulations is unconstitutional. His official opinion was given to the Knesset's Ministerial Committee for Legislation after the HCJ ruled on the matter; thus, the bill is in fact intended as a court-circumventing measure.