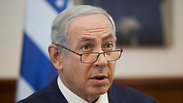 Netanyahu thanks US, responds to criticism of deal
After signing historic aid deal with the United States, PM Netanyahu thanks US President Obama during his cabinet meeting; responds to criticism of the deal; Netanyahu: 'agreement proves the depth and the strength of the relationship between Israel and the US.'
Prime Minister Benjamin Netanyahu opened up his cabinet meeting on Sunday by addressing the criticism he received over the US aid deal, especially from former Prime Minister Ehud Barak.

"I'm hearing so much background noise and disinformation regarding the agreement," the prime minister said. "I would like to clarify – we couldn't have gotten more – not even another dollar. We also weren't offered any special technologies. These are distortions and fabrications by people who have an interest (in providing disinformation)."

Netanyahu added that "last week we signed a security aid agreement with the US which will last the next 10 years. Israel will receive $38 billion to strengthen our military power, and also to strengthen our anti-missile defense systems. I would like to thank President Obama, the US Congress, and the American people. The support Israel receives from the US is stronger than ever before, is bi-partisan, encompasses the length and breadth of the US, and is reflected in this agreement."

"This is the largest aid package to any country in US history. This agreement proves the depth and the strength of the relationship between Israel and the US."

On critics of the agreement, Netanyahu said "either they aren't away of the facts or they are twisting the facts. They are also displaying their ungratefulness, and that to me is the saddest thing – ungratefulness towards a biggest and our best friend; the US. This is an agreement which will strengthen Israeli security, and we should bless it and express our gratitude to the US.

Former Prime Minister Ehud Barak fiercely criticized the agreement. In an op-ed published in the Washington Post and various interviews in the Israeli media, Barak said "(Netanyahu's) reckless behavior is endangering Israel's security. The damage which he has caused to our relations with the White House due to this irresponsible behavior have been undeniably revealed."