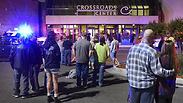 Scene of the attack
Photo: AP
ISIS claims responsibility for Minnesota mall attack
ISIS released a message Sunday praising the actions of the stabber: 'The executor of the stabbing attacks in Minnesota was a soldier of the Islamic State and carried out the operation in response to calls to target the citizens of countries belonging to the crusader coalition.'
A man in a private security uniform stabbed eight people at a Minnesota shopping mall, reportedly mentioning Allah and asking at least one victim if they were Muslim, before an off-duty police officer shot and killed him, authorities said.

In a message released after the attack, ISIS claimed, "The executor of the stabbing attacks in Minnesota was a soldier of the Islamic State and carried out the operation in response to calls to target the citizens of countries belonging to the crusader coalition."

All eight victims were treated at a hospital for wounds that weren't life threatening and all but one were later released, St. Cloud police Chief Blair Anderson said at a news conference. The eighth was admitted, but no other details about that person's condition were released.

The attack happened at around 8:00pm, Saturday at the Crossroads Center in St. Cloud, a city of about 65,000 people 60 miles northwest of Minneapolis.

A man in a security uniform and armed with a knife stabbed people in several locations in the mall, including corridors, businesses and common areas, the chief said. He said an off-duty police officer from another jurisdiction shot and killed the suspect.

Anderson said the man reportedly made at least one reference to Allah and asked a victim if they were Muslim before attacking them. But he declined to call it an act of terrorism, saying the motive was still unknown.

"We will be diligent and get to the bottom of this," Anderson said. "Starting tomorrow, things won't be the same here."

It was not immediately clear if the extremist group had planned the attack or even knew about it beforehand. ISIS has encouraged so-called "lone wolf" attacks. It has also claimed past attacks that are not believed to have been planned by its central leadership.

Anderson didn't identify the attacker, but he said police had had three previous encounters with him, mostly for minor traffic violations. He said authorities have no reason to believe anyone else was involved in the attack, and that the FBI had offered to help with the investigation.

"The entire mall is an active crime scene," Anderson said.

The St. Cloud mall remained on lockdown following the attack, but authorities expected those remaining inside to be released early Sunday. Photos and video of the mall taken hours after the incident showed groups of shoppers waiting to be released, including some huddled together near a food court entrance.