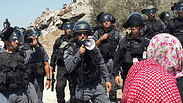 Protest outside home of Dizengoff killer
Clashes erupt outside home of Dizengoff terrorist
Right-wing activists protest outside the home of Nashat Melhem who killed three last January; demonstrators waving Israeli flags met by 150 Arabs blocking the road to Melhem's home; two arrested after Arabs hurl rocks at police; Arab MK: 'This is a provocative march by a group of fascists;' Israeli activists: 'Israel cannot tolerate disloyal elements.'
Dozens of right-wing activists staged a demonstration Monday afternoon in the northern Israeli village of Ara outside the home belonging to the parents of Nashat Melhem, who carried out a deadly shooting terror attack on New Year's Day.

As demonstrators waved the Israeli flag, the residents blocked the road leading to Melhem's home. Police reinforcements were stationed at the scene to ensure the maintenance of public order. However, skirmishes eventually broke out with the police at whom some of the residents began to hurl rocks. Two were eventually arrested.

Melhem opened fire on the popular Dizengoff street in Tel Aviv in January 2016 killing Alon Bakal, 26, who was the manager of the Simta bar at which the attack took place, and Shimon Ruimi, 30, from Ofakim. l and Amin Shaban, a taxi driver.

Right-wing activist and lawyer, Itamar Ben-Gvir, explained the reasoning behind the protest. "We are going to the home of the parents of the terrorist to say to whoever supported him and gave him assistance that the time has come to stop this lawlessness," said Ben-Gvir. "The State of Israel cannot tolerate all kinds of disloyal elements, especially such as those who assist and support a terrorists and his criminal acts of murder."

Local residents however, posit that the real targets of the demonstration are not terrorists or their sympathizers but the Arab community as a whole.

"The right wants to highlight the story of Nashat Melhem a year after the attack with the aim of undermining the quiet in the village.That is why it was decided that we will also demonstrate, and prevent their visit," said a social activist and Ara resident, Loius Kativ. "The parents of the terrorist are normal people who were forced to pay the price despite having no connection with the arrest," Kativ added in reference to the fact that Melhem's father was arrested on suspicion of involvement in the attack, and subsequently released.

Joint Arab List MK Yousef Jabareen condemned the march orchestrated by the activists: "This is a provocative march by a group of fascists, whose entire aim is to slander all the residents of Wadi Ara and to incite against them. Both the local council and the residents in the area strongly condemned the attack in Dizengoff which is why it is obvious that the aim of the protest is to arouse hatred and strife against the Arab public," he said.

"This is a continuation of the right's effort to delegitimize Arab civilians and to portray them as enemies," continued Jabareen, who is also a resident of the area.