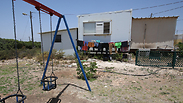 In a last-ditch effort to prevent the evacuation of their outpost, the residents of Amona sent a letter of protest to Prime Minister Benjamin Netanyahu on Sunday, urging him to legalize their homes.

"Amona has become a symbol of the settlement enterprise. Then again, we have nothing to lose," they wrote. "Any alternative that is not Amona is out of the question. We won't be bought with futile promises, budgets or other inducements."

The settlers noted that they intend to mount a "public popular struggle, respectable and difficult, that would unite all of our supporters, both within the outpost and without. This will be the fight of our lives for our home."

At present, there is one alternative solution on the table: A proposal to move the Amona homes to 11 nearby plots belonging to absentee Palestinian owners, over which the Palestinians did not submit any reservations.

But the letter indicates that the settlers have a clear preference to the legislative option.

"The Israeli public is no longer willing to tolerate sights of destruction and evacuation. If we fought against the demolition of nine houses during Olmert's tenure, we are most certainly going to fight when the entire outpost is at risk of demolition," the settlers wrote.

However, they stressed that "We will not raise a hand, heaven forbid, but we will fight with determination. We'll stand in our thousands and defend our homes."

The settlers also reminded Netanyahu of his past promise, "In several months, the Likud government under your leadership is expected to demolish our homes and throw our families out to the street, in contradiction to your famous statement: 'We did not evacuate, and we will not evacuate.'"

The settlers finish their letter with a plea, "50 years after the people of Israel returned to the wide open spaces of their homeland, it is time to decide. We call on you, out of a historic sense of mission—pass the bill (that would legalize Amona). Save Amona and the settlement enterprise."

In the past, the Netanyahu government has torpedoed previous attempts to legalize the outpost in Amona, and it appears the prime minister still opposes such a move, particularly in light of the legal complications it entails.