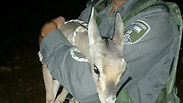 Photo: Police Spokesperson
Photo: Police Spokesperson
Raid on home of Hamas operative leads to rescue of baby deer
Following a raid on the home of a Hamas operative in a village near Jenin, security forces discover fawn and turn it over to animal welfare services; 'Even in operations where we detain wanted suspects, it is impossible to ignore the sight of a suffering animal being held in captivity. This situation also involves saving life.'
During a raid on the house of a Hamas operative in the village of Jaba, near Jenin in the early hours of Monday morning, security forces discovered a month-old fawn that was being held illegally and in conditions not suitable for wild animals.

Border Police forces who conducted the raid transferred the fawn to the nature reserve section of the Civil Administration for treatment and rehabilitation.

The Civil Administration said the fawn was being monitored by veterinarians at the Biblical Zoo in Jerusalem, while continued recovery will most likely be conducted at a petting zoo. Veterinarians think that due to the age of the animal and the amount of time it spent in captivity, there is little chance it could survive in the wild.

Naftali Cohen, an officer in the nature reserves and parks authority of the Civil Administration said, "We are increasing collaboration with IDF and Border Police forces operating in the West Bank. We are in constant contact with organizations in Israel which deal with animal rehabilitation after we transfer an animal."

Operations commander, Yasser Assadi, added, "Even in operations where we detain wanted suspects, it is impossible to ignore the sight of a suffering animal being held in captivity. This situation also involves saving life."