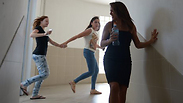 Archive photo
Photo: Avi Rokeach
The IDF's Home Front Command is carrying out its annual drill, "Strong Stand," that will reach its peak on Tuesday with sirens being tested throughout the country.

The first round of sirens will be sounded between 11:05am and 11:15am, and at 7:05pm, the entire country's sirens will be tested simultaneously (with the exception of the Gaza border region).

During the sirens, citizens are instructed to retreat to shelters in their homes, workplaces and schools.

The Home Front Command has detailed the times of the sirens:
11:05: the north
11:07: Haifa area
11:09: center region
11:11: Jerusalem area
11:13: Gaza border region
11:15: the south
7:05pm: all of Israel, except for the Gaza border region

At 10:00am, an emergency drill will be carried out at a chemical plant in Haifa. It will simulate rockets falling on the plant, and firefighting forces, police, Magen David Adom, the Ministry of Environmental Protection and the Haifa Municipality will take part. Traffic in the area is likely to be affected, and the drill is scheduled to end at 2pm.

The national home front drill tests the response to an all-out, multi-arena and multi-front war. Taking part will be Home Front Command forces, firefighters, police, Magen David Adom and government ministries. The drills will include emergency situations in the north and the center, including rescuing trapped persons from rubble and dealing with hazardous materials.

Additional information can be found on the Home Front Command's website and on the telephone information line 104.