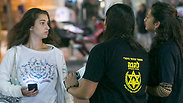 Lehava members at Zion Square in Jerusalem
Photo: Ohad Zwigenberg
Radical right-wing group's marches of hate in Jerusalem
Every Thursday night, dozens of members of the anti-assimilation group Lehava march in the Jerusalem city center, shouting racist slogans against Arabs. Some have gone as far as to assault dozens of Arabs in the area. Unfortunately, almost all of the cases were closed due to lack of evidence.
It's Thursday night in Jerusalem, nearly midnight. Two teenage boys are sitting with beers in one of the alleys near Zion Square. A group of other teenagers passes by them and decides to stop and question the two about what they were doing there. Even before the two can finish their sentence, their accent reveals that the two are Arabs, and the group jumps them and starts hurling abuse. One of the Arab teens manages to flee the scene, but the other isn't so lucky. He falls down and suffers a barrage of fists and kicks. "Garbage Arab, get out of our city!" they shout at him him. "Their" city.

After a few minutes of this onslaught, the second teenager manages to escape, and the group of assailants, cheerful and content, continue on their way. They seek their next victim, another notch on their belt.

The two attacked teens will likely not return to the city center, the "territory" of the right-wing radical organization Lehava. And the Lehava group—a rabble of Kahane supporters, ultra-Orthodox fringe youth and members of Beitar Jerusalem's infamous La Familia fan group—can claim another victory.

Such incidents have been happening in the city center for quite some time. This weekly march of Benzi Gopstein's followers mostly ends with incitement and verbal violence against Palestinian youth from east Jerusalem, but at times it could also end with physical violence.

Over the past two years, over 20 such attacks against Palestinians were documented in the area, but law enforcement authorities seem unable to put an end to it.
Guilty of speaking Arabic
Tommy Hasson finished his shift at the Jerusalem Gold Hotel at 11pm. He was walking towards the Central Bus Station, speaking to a friend from east Jerusalem in Arabic, when a group of some 10 Jewish youth passed by. The Jewish youth heard Hasson speaking Arabic and started throwing cans at him. He ignored them. Seeing that their provocation had met with no response, they assaulted Hasson, beating him and hitting him with glass bottles. The fact he's a Druze who did his IDF service at the President's Residence didn't seem to bother them. They heard him speaking Arabic, and that was enough.
Hasson eventually managed to escape and get to the Central Bus Station, where he received first aid. He was then taken to the hospital, suffering from cuts and bruises.
In this instance, a nearby shop owner called the police immediately after the assault, but it wasn't captured on any security cameras. Several suspects were arrested, and the police recommended indicting them. But even though Hasson was recognized by the National Insurance Institute as a victim of terrorism, the Jerusalem District Attorney's Office announced last week—about a year and a half after the attack—that the case had been closed, citing lack of evidence.
This case is not the first one and unfortunately not the last. It simply received more attention because Hasson is Druze, not Palestinian.
In recent years, there have been many assaults on Arabs by Jews in Jerusalem. The police arrested suspects in some of the cases, but nearly none of these cases made it to court.
And so, for example, two bus drivers were attacked in the past year in two different instances, but no indictments were filed. After soccer team Beitar Jerusalem lost to Bnei Sakhnin last May, Beitar fans attacked Nadwa Jaber, a resident of Abu Gosh who was driving by the stadium with two of her daughters. Other attacks were not even reported to the police.
Ishaq Abu Jabneh, a taxi driver from the Sheikh Jarrah neighborhood, was attacked last August at Zion Square in Jerusalem.
"Around 3:30am, I passed by there and saw my friend, so I went to say hello to him," Abu Jabneh recounted. "About five young men showed up and started swearing at us, 'Why are you here? Go work in Gaza.' I asked them why they were swearing at us and what their problem was. I intentionally spoke with my hands behind my back, because I used to work as a security guard at Eitanim (mental health center) and I know that this is how you indicate that you don't want violence. We started walking away, and all of a sudden they jumped me, sprayed me with pepper spray, and threw rocks at me."
It was only when police arrived at the scene that the attackers let up and fled. Abu Jabneh's leg was broken, and he had to be hospitalized. Even though police officers came to the scene and took his details, no officer went to the hospital to collect his testimony. An investigation was only opened after he went to a police station to file a complaint upon being discharged from the hospital, but in that interim, the footage from the security cameras that documented the attack had been deleted, and the case was closed due to the lack of evidence.
Where's the police?
It's hard to believe that the police would be acting the same way if the situation were reversed—a Jew being attacked by Arabs. But the place where the attacks took place is significant.
Every Thursday, members of Lehava gather at Zion Square, where they set up a makeshift stand and hand out anti-assimilation flyers to passersby. Later, they roam the city in gangs, dressed in the organization's black shirts, and call out things like "Muhammad is dead" and "Kahane was right."
Researchers at the Reform Center for Religion and State, who have been monitoring the Lehava youth's activities, said there is a clear connection between Lehava's activities and attacks against Arabs in Jerusalem.
In 2014, three Lehava members set fire to the Jewish-Arab school in Jerusalem and sprayed hateful graffiti on the walls. Then, at the end of Sukkot last year, dozens of youth, including Lehava members, beat up Arab workers at the Mamilla outdoor mall near the city center. Last July, five youths in Lehava T-shirts assaulted an Arab youth on the Ben Yehuda pedestrian mall.
"We've been monitoring Lehava since 2009, and we've seen consistent patterns in their activities against Arabs," said Rabbi Noa Sattath, the head of the Reform Center for Religion and State.
"On Thursday evening, there are few adults and many minors and at-risk youth who head incitement against Arabs. Their marches and their calls against Arabs create an atmosphere of fear and terror in the city center," she said. "We hear from Arabs that they're avoiding the Zion Square area during the weekend because they're afraid they would be attacked."
"Lehava presents itself as an organization that works against assimilation, but there are more women in Israel who marry men from Thailand than those who marry Arab men. It is such a marginal phenomenon, but Lehava is trying to terrify the Israeli public," Sattath added.
The violent atmosphere also affects the business owners in Jerusalem, who are having a hard time finding Arab employees to work during the weekend.
"The volume of attacks rises in the summer months, not just on weekends," said Avi, who manages a café in the city center. "There's an overall rise in violence, because hundreds of teenagers are wandering around bored and drunk, and the first people they target are Arabs, but not just. Over the past year, with all of the stabbing attacks, it has been hard finding Arab employees and the tensions are particularly evident during the weekend, when the Lehava guys are walking around. It's a scary atmosphere that deters my employees."
Rabbi Sattath of the Reform Center lays the blame on Lehava leader Benzi Gopstein, who she says is leading the incitement.
"When Gopstein didn't come to Zion Square—when he was on house arrest and when he was recovering from an operation—we saw a decline in violence," Sattath said. "He works with teenagers that just wander the city aimlessly, giving them a feeling of belonging, and then using them to promote his own racist ideology."
So far, the Reform Center filed over 25 complaints against Gopstein and some 50 against Lehava members to the police and the attorney general.
Among the comments that led the center to file a complaint against him were Gopstein's call during a panel at the Wolfson yeshiva in July 2015 to burn churches; his comments against the pride parade over the past summer; and his comment that dubbed Christians "bloodsucking vampires" just before Christmas of last year.
Because these are offenses relating to free speech, the police needs the approval of the attorney general to open an investigation and to file an indictment.
According to Sattath, the complaints were filed over a year ago, but have so far been met with no answer.
This coming Thursday, the Reform Center will hold a rally in support of coexistence in Jerusalem, entitled "Freeing Jerusalem from the Flames of Hatred—For We Be Brethren."
"Lehava members operate under the guise of fighting against assimilation to increase the hate and violence against Arabs. They do so with incessant incitement on social media and at a stand in Zion Square in Jerusalem," said the head of Tag Meir, Gadi Gevaryahu.
"Innocent teens fall victim to the extreme nationalism and racism of radical right-wing activist Benzi Gopstein, who shuns them a moment after the police captures the perpetrators. While Gopstein sits safely in his home, the parents of those teenagers visit them in jail, and the residents of Jerusalem pay the price of the gang leaders' hatred and incitement. It's time to shut down Lehava's stand at Zion Square and indict Gopstein for incitement and sedition."
Gopstein, meanwhile, rejects the claims made against him out of hand. "All of our activities are legal, and since we've been there (at Zion Square), the mood in the city center has become a lot calmer," he said.
"We go around the city and prevent sexual harassment of Jewish women—just this week there was a rape of a Jewish woman by an Arab man in the city center. We walk around the city with a close escort of the police and of left-wing activists who follow me and members of Lehava. No violent activities were discovered, and as far as I know no Lehava members have been arrested. It's a shame the Reform Movement, instead of operating against the real violence in Jerusalem, is operating against us. If the Reform Movement is against me, it means I'm on the right path."
The Justice Ministry said in response, "The State Attorney views incitement to violence, to terrorism and to racism very gravely, as well as acts of violence of any kind motivated by racism or extreme nationalism. Accordingly, the State Attorney acts with determination against such displays across the entire spectrum of Israeli society, regardless of ethnicity, religion or nationality.
"Indictments are filed strictly in accordance with the legal and evidentiary foundation formulated and the public interest in prosecuting the suspect.
"The Lehava case remains open, among other things, because this is a complex case in terms of evidence and because the need to conduct further investigation has arisen."
Police said in response: "The police are carrying out extensive activities—both overt and covert—in the city center to maintain public order and public safety. This activity is done equally and impartially. As part of this activity, right-wing activists who attacked and called out inciting slogans were detained and arrested. The case was transferred to the prosecution for examination."