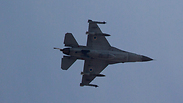 The Israeli Air Force shot down an unmanned aerial vehicle belonging to Hamas on Tuesday morning.

The drone was shot down over the coastline in the Gaza Strip, and the IDF stated that it never penetrated Israeli territory. The military also stated that they had tracked the UAV from the moment that it launched.

Israeli fighter jet shoots down Hamas drone

An IAF plane shot it down. The IDF commented, "We will not allow a violation of airspace, and we will with determination against any such attempt."

The IAF aircraft, which was an F-16, shot down the drone around 10am. It used a missile to take the Hamas UAV out.