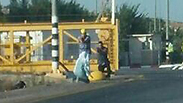 Attempted stabbing attack outside Alfei Menashe
A 12-year-old Palestinian girl tried to stab soldiers at the Eliyahu checkpoint near Alfei Menashe in the West Bank on Wednesday morning, telling security officials afterwards: "I came here to die."
The girl arrived at the checkpoint on foot and approached vehicles carrying a bag. Crossings Authority security guards ordered the girl to stop and fired warning shots into the air. The girl ignored them and continued moving forward. When she put her hand under her shirt, security guards shot her in the leg, lightly-to-moderately wounding her.
None were hurt on the Israeli side.
This is the 11th attempted attack in the last six days and occurred the day after a 16 year-old terrorist tried to stab soldiers at a checkpoint in Bani Na'im, near Hebron.