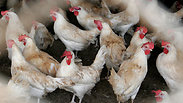 Archive photo
Photo: Amir Levi
Israeli chicken farmers have announced that despite plenty of chickens available for slaughter, the upcoming Jewish holidays will reduce the number of days on which to do so, and so there may be shortage over the holidays as a result.

The country experienced a poultry shortage last week due to the Muslim holiday of Eid al-Adha, which the Muslim slaughterhouse workers had off. Now, with the approaching Jewish holidays of Rosh Hashanah, Yom Kippur and Sukkot, the shortage of chicken is expected to continue.

In a press release, the Israeli Poultry Farmers' Association recommended that consumers plan ahead and buy frozen chicken or buy turkey instead, of which there is an abundance.

The association's secretary, Motti Elkabetz, explained that the Jewish holidays' falling this year on weekdays has led to the problem. "The farmers and the sellers are doing everything they can to augment the supply of chicken, turkey and eggs for the holidays and the work days between them, but there apparently won't be enough fresh chicken," he said.