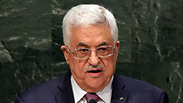 Arab states shelve push against Israel at UN nuclear watchdog
For the first time in three years, the Arab states will not be submitting an annual resolution at the IAEA's General Conference due to repeated lack of success; Arab League Ambassador says Arab states are revising their tactics: 'We are not concerned with short-sighted victories.'
Arab member states in the UN nuclear watchdog have shelved an annual bid to pressure Israel into accepting international scrutiny of its atomic activities pending a revamp of their tactics, a senior diplomat said.

Their diplomatic strategy is shifting after previous resolutions at meetings of International Atomic Energy Agency members failed to secure more transparency from Israel, believed to have the only atomic bombs in the Middle East.

Increasingly frustrated, Arab states will not submit an Israel resolution at the IAEA's General Conference next week for the first time in three years, a senior Arab diplomat told Reuters.

Arab nations have been unable to push through such resolutions at the annual meeting of IAEA member states since 2013. The last time they succeeded was in 2009, but this did nothing to enhance UN monitoring of Israel's nuclear actions.

Repeated Arab-sponsored attempts to organize a conference on a Middle East nuclear weapons ban have also been fruitless, with the United States always standing with Israel against the move.

This led Arab states to decide to stop striving for resolutions that merely call on, but do not order, Israel to implement nuclear control regimes such as the Non-Proliferation Treaty (NPT) or an IAEA Comprehensive Safeguards Agreement (CSA), Arab League Ambassador Wael Al Assad said.

Israel has never confirmed or denied having nuclear weapons under a policy of ambiguity. It is the only Middle Eastern country outside the NPT and has no CSA—the only other countries in that position being Pakistan and India.

"Now Arabs are saying enough is enough. We need to deal with this in a more results-oriented way. We are not interested in resolutions that have no implementation mechanism," Al Assad said on Thursday in Vienna, the headquarters of the IAEA.

"We need to seek other means and policies, we are now in a process of revision (until next March)," he told Reuters. He did not go into what changes were being considered.

Some diplomats said the Arab decision not to mount their annual push for an IAEA resolution represented a victory for Israel. When asked about this, Al Assad said: "We are not concerned with short-sighted victories for five minutes."

Israel has said it will consider joining the NPT only once it is at peace with its Arab neighbours and Iran.