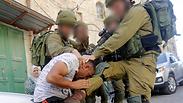 IDF soldiers in Hebron
Photo: EPA
IDF investigating allegations of soldiers beating suspect
Soldiers from the Nahal Brigade's 50th battalion, which is responsible for the Hebron area, were photographed forcefully detaining a suspect who refused to be searched near a checkpoint; 'The conduct of the forces will checked and the incident will be investigated.'
The IDF is investigating an incident that occurred Monday near a Jewish neighborhood in Hebron, in which soldiers from the Nahal's 50th battalion forcefully detained an unarmed Palestinian man.

An initial investigation into the incident revealed that the man, who was eventually detained for questioning, refused to be checked by soldiers who were conducting searches near a checkpoint.

In response to photos from the EPA photo agency which appear to show soldiers forcefully subduing the suspect, the IDF Spokesperson's Unit said in response, "In light of the situation following recent terror attacks in the city, and due to security considerations, it was decided to conduct searches in the area. During one such routine search, a Palestinian man deemed suspicious refused to be searched. Forces detained the suspect. The conduct of the forces will checked and the incident will be investigated."

The 50th battalion, which is responsible for the city of Hebron, was praised in recent days for is conduct following multiple attacks in the city while only sustaining minor injuries.

The battalion has been reinforced in the last few days by the Shimshon battalion of the Kfir Brigade, Sgt. Elor Azaria's unit, which was responsible for the same area before the 50th battalion replaced them.

IDF forces in Judaea and Samaria have been briefed in recent months to handle security incidents in a manner to minimize the number of Palestinians killed. This mode of a more cautious conducted stems from the understanding that many of the individual attackers have gone out in search of revenge for their relatives who were injured or killed while carrying out similar incidents. The caution also accompanies Chief of Staff Gadi Eisenkot's remarks that there is no need to empty a magazine into a a young girl carrying out a terrorist attack.

Eisenkot's comments came after a police officer shot dead a 14-year-old Palestinian terrorist who, with her 16-year-old cousin, carried out a stabbing attack with scissors at the Mahane Yehuda market in Jerusalem in December 2015.

Meanwhile, Hebron has become the most documented operational sector in the country with more than 80 IDF cameras covering Jewish sectors and Palestinian activists recording almost every incident involving the IDF.