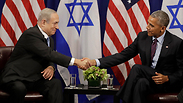 L: Netanyahu and Obama
Photo: AP
Obama urges PM to stop settlement building for the last time
US President Obama told Netanyahu in what is presumably their final meeting in office that he is concerned about the viability of a two-state solution and about continued settlement building; Netanyahu stressed that the settlements are not the root of the conflict, suggesting that building a closer relationship with other Arab entities might lead Israel to a stable peace with the Palestinians.
US President Barack Obama met for an hour with Prime Minister Benjamin Netanyahu in private on Wednesday, following a sit-down in front of members of the press, in what is likely to be their last meeting as Obama approaches the conclusion of his two-term presidency.

An American source said that during their closed doors encounter, Obama expressed his apprehension over the continued expansion of the settlement projects, a point which he has already strongly intimated erodes any chance of a two-state solution. Netanyahu rebuffed, as he has repeatedly done so in the past, replying that the settlements do not constitute the core of the conflict. According to the American source, Obama and Netanyahu made no attempts to conceal their difference of opinions during their meeting.

Another official from Netanyahu's staff responded to Obama's concerns: "Are 20–30 settlements really at the heart of the conflict?," he rhetorically asked. "The real issue here is that they (the Palestinians) fill their children with poison and hate against us. We're not running from this problem, they're running from this problem. They need to recognize Israel and relinquish the Right of Return. If they don't want ISIS or Hamas to eat them alive, they're better off (with us). It won't take long before the international community will accept it."

Sitting in front of the camera, Obama began by wishing the ailing former Israeli president Shimon Peres, who was rushed to hospital last week after suffering a stroke, a full recovery. "I want to start by just sending a message that all of the American people, my entire administration, and me, personally, are thinking about Shimon Peres—a great friend, a hero and giant in the history of Israel. And we are hopeful that he will have a speedy recovery," the president said.

"I've always joked whenever I've seen Shimon that I wanted to see what he ate and what he did, because he's always looked so good," added Obama. "I know this has been a challenging time for him and his family, but I wanted to make sure that I relay my gratitude to him for his friendship and his leadership, and helping to forge a strong US-Israeli bond."




Regarding the Israeli-Palestinian conflict, Obama voiced his concerns over acts of terrorism and the continued development of the Israeli settlements. "Obviously, our hearts go out to those who have been injured, both Israeli and Palestinian. Clearly, there is great danger of not just terrorism, but also flare-ups of violence. We do have concerns around settlement activity, as well. And our hope is that we can continue to be an effective partner with Israel in finding a path to peace."

Obama also reiterated the timeless connection between the two countries and people. "The bond between the United States and Israel is unbreakable. It is based on common values, family ties, a recognition that a Jewish state of Israel is one of our most important allies, and a guiding principle throughout my presidency—one that I've expressed often to the prime minister—is, is that it is important for America's national security to ensure that we have a safe and secure Israel, one that can defend itself."

For his part, Netanyahu expressed appreciation for the cooperation and support that the US has shown Israel, specifically mentioning the recently signed $38 billion aid deal, the largest in US history.

"First, I want to thank you for the Memorandum of Understanding that we signed last week," said Netanyahu. "It greatly enhances Israel's security. It fortifies the principle that you've enunciated many times that Israel should be able to defend itself, by itself, against any threat."

"Secondly, I want to thank you for the extensive security and intelligence cooperation between our two countries. I don't think people at large understand the breadth and depth of this cooperation, but I know it. And I want to thank you on behalf of all the people of Israel."

"Third, I want to thank you for the many meetings we've had in which we discussed how to confront common challenges and how to seize common opportunities. The greatest challenge is, of course, the unremitting fanaticism. The greatest opportunity is to advance a durable peace. That's a goal that I and the people of Israel will never give up on."

Netanyahu ended his farewell on a warm note to Obama by complimenting him for his influence, thanking him for his stalwart defense of Israel and reiterating that he will forever be welcome in Israel.

"As you conclude your presidency, I know you're going to be busy with many, many things, much more than improving what I hear is a terrific golf game. Your voice, your influential voice will be heard for many decades. And I know you'll continue to support Israel's right to defend itself and its right to thrive as a Jewish state. So I want you to know, Barack, that you'll always be a welcome guest in Israel."

Netanyahu jokingly added that "I don't play golf, but right next to my home in Caesarea, in Israel, is a terrific golf course," to which Obama responded in jest, "We'll set up a tee time."

An official on Netanyahu's team summarized the PM's closed doors meeting with Obama as a positive one. "We're in sync on almost everything, much more than people think," he said, adding, "We spoke a lot about matters of security and intelligence, where our cooperation is deep and goes both ways."

The source claimed that Netanyahu offered Obama a new perception regarding the conflict, saying that the Israeli-Palestinian conflict might be solved by improving Israel's relationships with other entities within the Arab world. Referring to Egyptian President Abdel Fattah al-Sisi's call for peace, reiterated in his UN speech on Wednesday, the source said that "Until now, there hasn't been such a clear Arab interest to reach agreements, and al-Sisi's comments prove that. No one has spoken like this since (former Egyptian president Anwar) Sadat."

Prior to their meeting, top Obama aid Ben Rhodes stated that the Obama administration will not be seeking to promote another peace initiative between Israel and the Palestinians. Seven years ago, Obama spoke in front of the UN General Assembly, saying he will not give up on an Israeli-Palestinian peace. In his speech on Wednesday, though, Obama only briefly mentioned the conflict. "Surely Israelis and Palestinians will be better off if Palestinians reject incitement and recognize the legitimacy of Israel but Israel recognizes that it cannot permanently occupy and settle Palestinian land," he told his listeners.

The City of Jerusalem also prepared for the Obama-Netanyahu meeting, with the municipality's Planning and Building Committee halting all building permits in the city. This was done to avoid approving a building permit in the Gilo neighborhood, which lies beyond the Green Line in East Jerusalem. Such a move would have likely created a great deal of tension with the Obama administration.