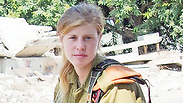 This incident has been haunting Staff Sgt. Rachel Selfin's dreams for almost a year now. Over and over again she sees the knife raised, hears the gunfire, sees the burst of blood, and relives the incredible level-headedness she demonstrated in those moments. With stabbing attacks once more on the rise, these moments keep coming back to the forefront of her mind. The bravery of women—just out of girlhood—on the battlefield.

On October 21, 2015, while Selfin's battalion was deployed in the Binyamin region, one of her soldiers, Cpl. Dikla Megidish, was stabbed in the neck by a terrorist. Cpl. Lihi Malka made headlines that day when she shot and neutralized the attacker, but it was Selfin who saved Dikla's life by stopping the bleeding from the soldier's neck with her hands until rescue forces arrived at the scene.

"I was really really scared," Selfin admits in her first interview. "But I knew that if I panic, Dikla might panic too. Despite what is normally said about wounded people, she was incredible. She didn't scream, didn't thrash around. She was calm."

Have you been reliving the incident in your head since?

"Yes, all the time. To this day, I keep reliving it. I have flashbacks and when I tell the story, all of a sudden I'd remember something I had forgotten before. It's not that I'm experiencing PTSD, it doesn't haunt me on a daily basis, but it's just there."
A new family
The stabbing attack is surprisingly not the most dramatic event in Rachel Selfin's life. The 22 year old from Haifa is considered a lone soldier. When she was three, she lost her mother to cancer, and when she was five, her father died of internal organ failure as a result of his diabetes. Consequently, Rachel and her older brother moved in with their aunt and her four daughters.

"They might be technically my cousins, but they've been my sisters since I was five," she says. "I was living with them even before my dad passed away, because of (my aunt's) desire to help him as he was alone with small children. So it was a natural sort of process, we just stayed with them."

You're talking about this as if this just happens to everyone.

"Of course this isn't the sort of thing that happens to everyone. On the other hand, in hindsight, I couldn't have asked for anything better than staying with my family, and to have me and my brother staying together and not be separated and adopted by different families, as sometimes happens."

Was it obvious for your aunt as well?

"I don't know if it was obvious, but it just happened. My mom and dad passed away, it's not something we were prepared for, and my aunt deserves a lot of credit for adjusting to the situation. She always told us that she had a dream in which she adopted two children, and looking back she finds it funny that life led her to adopt."

Today, Rachel is the youngest of six siblings. "They're my family, for all intents and purposes," she says. "I still have memories of my parents, mostly of my dad—but this is my family, and they feel the same."

Because of the cards life had dealt her, Rachel had to become independent early on. She's been supporting herself financially since the age of 15, and even now, while serving in the IDF, she takes on the odd job.

Despite these difficulties, she was determined to become a combat soldier—and later a commander as well.

"When I got old enough to enlist, I was already very much in the mindset of having a meaningful service, the kind I wouldn't be able to do elsewhere," she says. "At first, I got into the Naval Academy. I was there for four months before flunking out. The sorting officer asked me what I wanted to do, and I said it didn't matter where he put me—as long as I remain in combat. That's how I got to my unit—the Search and Rescue Unit, where I'm a commander."
Emotional meeting at the hospital
A little over a year ago, when the wave of violence had just begun, Rachel and her soldiers were pulled out of training to help with security at the Binyamin Territorial Brigade.
"We got to the Anatot (Almon) area, and one of our assignments was at Kikar Adam—protecting the road, seeing who passes by, and keeping an eye on the residents and the vehicles. There were several stone-throwing incidents and other terror attacks in the area, which meant we had to remain vigilant."
Was anything different about that day?
"That day I started a 12-hour mission with two of my female soldiers and one male soldier. I divided the force: Two to conduct security checks of each vehicle passing by and the people who approach the force—so no one could pose a threat; and two—myself and another soldier—to watch over the other team and the nearby village of Jaba' and make sure no one was coming from there."
"About half an hour or an hour into the mission, I called the two soldiers who were on the second team over so we can switch posts. I wanted to maintain operational vigilance and interest, to keep alert. They were coming toward me, and when we were a about a 100 meters away from each other, I started moving towards them. This led to a situation in which, for about a minute, we had our backs to each other. Unfortunately, a terrorist was watching the force and used that opportunity to stab Dikla."
Lihi, who was standing next to Dikla, heard the terrorist shout "Allahu Akbar," cocked her weapon, and started shooting. She managed to take the safety off of her rifle and kill the terrorist, who was trying to escape towards Ramallah.
Meanwhile, Rachel got to Dikla, made sure the terrorist was indeed no longer a threat, and immediately turned to help her soldier.
"As soon as I saw the threat had been eliminated, I approached (Dikla) and immediately saw a spurt of blood pouring out of her neck," Rachel remembers. "Out of instinct, I put my hands on (the wound) on what's called a 'pressure point.' Every soldier—and indeed every person—should know how to do this, since it saves lives. It's said that the first few seconds (after this kind of injury) are the most critical, so I worked to stop the bleeding, one way or another."
For several minutes—which felt more like eternity—Dikla's life was literally in her commander's hands.
"It took a few minutes until the ambulance arrived," Rachel says. "During that time, I provided her with initial medical treatment. All the while I kept talking to her so she wouldn't lose consciousness. She told me she was cold and that she couldn't breathe, so I knew I had to keep her awake. I asked her what she liked to eat, I asked her to tell me her name and age, I asked what the first thing she wanted to do when she got home was. She was amazing and managed to stay conscious, she just needed my help and support. It also helped me know how to command my soldiers. One soldier reported the attack on the radio, and Lihi did everything that needed to be done in this kind of situation. They each performed amazingly. I'm proud of each and every one of them."
You saved her life.
"I don't want to take credit that I don't deserve. I did my job, but the credit should go to the military medical teams and the doctors at the hospital."
Rachel was not allowed to ride the ambulance, "even though I wanted to," and despite the attack, she and her soldiers resumed their assignment.
"It's part of the process," she says. "They didn't want any of us to go into shock, so we didn't leave. We kept talking about what happened. I remember all that came out of me were tears of joy. You always think of the worst things that could've happened, and I was thanking God for giving me this amazing strength to keep my cool in that moment and give it my all."
When did you see Dikla again?
"As soon as she was awake, Lihi, Almog (the other soldier) and I went to visit her. It was a very emotional meeting. Now she's in rehabilitation, and she's doing fine, and we of course keep in touch. She's doing everything right, thank God."
'Don't take these attacks for granted'
The recent resurge of violence, which has so far mainly been attempts to stab soldiers and police officers, is another reminder of the dangers Rachel and soldiers like her face every day. It reminds her of other things, too. Things many of us take for granted, like how fast we as a society move on or don't give enough attention to incidents that fortunately end without casualties.
"Even as a soldier, when you hear about an attack, you obviously get stressed out and you make sure, first and foremost, that it's not your friends (who were involved in the attack)," she says. "It's hard to understand such a situation if you don't experience it yourself. In our country, it's easy to take it for granted, to say that 'there were only (a few) injuries,' or that someone 'was only lightly wounded.' But every incident like that changes someone's entire world in a moment. We carry it with us for the rest of our lives, for good and for bad. But this is our job, we need to be prepared for it."
How did your family react to this incident?
"My family was, of course, proud of me. But to me, there was more to this incident. The public always has a hard time accepting that women can be combat soldiers. To me, this is proof for all female combat soldiers. There are a lot of combat soldiers, (including) men, who would have run away in such a scenario, but us girls dealt with it. So who's to say that we can't?"
And what's next?
"Today I'm finishing my time as a platoon sergeant. I'll complete my three years of service soon, and be released (from the IDF). Then I plan to take the university entry exams, do the Israel Trail, and after that—only God knows."