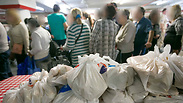 Handing out food to those in need
Photo: Ido Erez
Welfare Ministry to halt distributing food vouchers to the poor before Rosh Hashanah
The Ministry of Social Affairs and Social Services cancels plans to distribute food vouchers, each worth 375 NIS, to 10,000 of the poorest families in the country, due to a complaint of improper governance filed by the Latet non-profit and claims that the initiative will not reach its goal; in response, the ministry decided to open the initiative up for a bid, meaning the offered assistance will be delayed by several months.
The Ministry of Social Affairs and Social Services has canceled a project titled "the National Initiative for Nutritional Security," which was formed to supply 10,000 impoverished families in Israel with food vouchers, each worth NIS 375 ahead of Rosh Hashanah.

The decision came following a complaint launched by the non-profit Latet (To Give), which raised a questions into possible improper governance regarding the initiative. As a result, the ministry decided to halt its plan of providing NIS 38 million to some of the poorest people in Israel before the Jewish new year.

According to a national report from February 2014, 18.8% of families, amounting to some 243,000 families, suffer from "nutritional insecurity," defined as irregular access to an adequate amount of food that allows for a healthy and active lifestyle. According to the National Insurance Institute,10.2% of families in Israel suffer light-to-moderate nutritional insecurity and 8.6% suffer from a severe level of nutritional insecurity.

After years of governmental neglect, in 2014 the National Nutritional Security Council submitted its recommendations regarding the matter, detailing a plan that would cost half a billion shekels per year.

Almost two years after the initial report came out, the Ministry of Social Affairs and Social Services, led by Haim Katz (Likud), announced its plan to begin implementing the recommendations without setting up a tender, deciding instead to work with two non-profits, Ruach Tova (Eshel Jerusalem) and Leket Israel (the National Food Bank). The ministry was due to supply the project with NIS 18, while the non-profits were to match it with an additional NIS 18 million. Another NIS 2 million were slated to come from local municipalities, adding up to 38 million NIS. The initiative was supposed to operate in 32 different municipalities during the High Holy Days.

Setting up such a project without a tender requires a ministry to submit a request to be absolved of this process and to publicize its intention to do so, which allows the public to submit any complaints on the matter. This is indeed what happened, as another aforementioned major non-profit, Latet, voiced its official objection to the process citing a long list of reasons as to why such a project would be inefficient in achieving its goals.

Latet, which itself aims to provide assistance to weakened communities, soon became the target of a counterattack with one of those involved in the project asking, "How can a non-profit looking to assist weakened populations be the one stopping them from receiving food and money?"

Following Latet's complaint, the ministry has now begun working on a tender, which will effectively push the project into 2017, beyond the High Holy Days season.

Latet responded to the postponement by saying, "Our positions were already accepted by the chairperson of the National Nutritional Security Council Steering Commission that the Ministry of Social Affairs and Social Services director general has assigned to deal with this matter. If they would have acted along these lines, thousands of additional families could have been helped, instead of throwing away NIS 10 million, which might have happened by giving out the vouchers. It is the minister of social affairs and social services who is postponing this initiative. As evidence, not one shekel of the NIS 25 million promised for 2016 has reached the field, and the ministry is intending to use most of that money during 2017. The NIS 17 or 25 million could only count for 1% of the NIS 1.5 billion that are needed annually. Rather than deal with social spins, the Social Affairs and Social Services minister should make good on his word to provide NIS 100 million NIS to the budget to help battle nutritional insecurity, tell the public how he plans on taking full responsibility for the problem and reduce poverty in Israel."