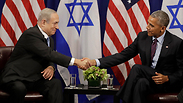 Netanyahu and Obama
Photo: AP
Prime Minister Benjamin Netanyahu on Thursday once again extended an invitation to Palestinian President Mahmoud Abbas to speak at the Knesset, while proposing that he himself visits Ramallah.
Speaking shortly after Abbas's own virulent speech, Netanyahu told the Palestinian leader: "You have a choice to make. You can continue to stoke hatred, as you did today, or you can confront hatred and work with me today."
"President Abbas, I invite you to come and speak at the Knesset in Jerusalem and I will gladly come to speak at the parliament in Ramallah," the Israeli leader went on to say.
"The road to peace runs through Jerusalem and Ramallah, not through New York," Netanyahu added.
Netanyahu at the UN
In his own speech, Abbas attacked the Jewish state and called to return to the 1947 Partition Plan borders.
Netanyahu answered Abbas's call by claiming that "had the Palestinians said yes to a Jewish State in 1947, there would have been no war, no refugees, and no conflict."
Then turning to attack Abbas's call to sue the British government over the Balfour Declaration, Netanyahu pointed out that just under 100 years had passed and sarcastically asked, "Why not bring a class action suit against Abraham for buying land in Hebron?" referencing the Biblical story.
Netanyahu held that the Palestinians were responsible for the ongoing conflict between the two peoples, saying, "This remains the source of the conflict: the Palestinian refusal to accept a Jewish state in ANY boundaries."
He addressed settlement-building, even admitting that it was an issue that needed to be dealt with, but he expressed umbrage that they be considered the main roadblock for peace.
Referencing the unilateral Israeli withdrawal from the Gaza Strip in 2005, he said, "When we withdrew from every inch of Gaza, we didn't get peace from Gaza. We got thousands of rockets fired at us."
"The real settlements they're after," he stressed, "are Haifa, Jaffa, and Tel Aviv."
"When the Palestinians say 'yes' to a Jewish state, we'll be able to end the conflict once and for all."
"The Palestinians are not only trapped in the past," he said. "Their leaders are poisoning the future (of their children)."
Netanyahu then painted a picture of a fictional, typical Palestinian child named Ali. Even if Ali wanted peace, he would still be surrounded by praise from the government and from society of violent terrorism. This the Israeli leader deemed to be "child abuse." He asked those present to "imagine what it takes for a young boy or girl to break free from this culture of hate."
'Israel won't accept UN attempts to dictate terms'
Despite his harsh criticism of the Palestinians, Netanyahu affirmed that "the State of Israel is ready. I am ready to negotiate all final status, but one thing I will never negotiate is the right to a one and only Jewish state."
Seemingly surprised by his statement's warm reception, Netanyahu commented, "Prolonged applause for the prime minister of the State of Israel in the United Nations General Assembly? Change may be coming sooner than I thought!"
And while he reaffirmed his commitment to a "two states for peoples" solution, Netanyahu shot down attempts for a peace process to be led by the United Nations.
"Does anybody really believe that Israel will let the UN determine our security? We will not accept any attempt by the UN to dictate terms to Israel," he wondered.
"I have so much confidence, in fact, that I predict a decade from now, an Israeli prime minister will stand here, where I'm standing, and applaud the UN. But I ask, why do we have to wait a decade? Why do we have to keep vilifying Israel?"
The prime minister then went on to dedicate a part of his speech to criticizing the UN for its continued condemnations of Israel.
"The UN has gone from being a moral force to a moral farce," Netanyahu charged.
He noted that the UN has passed 20 resolutions against Israel, and three against "the rest of the countries on the planet."
Netanyahu also bemoaned the fact that "as women are being systematically raped, murdered, sold into slavery across the world—which is the only country that the UN's commission on women has condemned? Yup. You guessed it: Israel."
He also condemned the UN's Educational, Scientific and Cultural Organization (UNESCO) specifically for a resolution proposal that acknowledges the Temple Mount, and particularly the al-Aqsa mosque, as a site holy to Muslims alone.
UNESCO, Netanyahu said, "denied the 4000-year-old connection between the Jewish people and its holiest site. That's just as absurd as denying the connection between the Great Wall of China and China."
Despite Israel's troubles with the United Nations, the prime minister took comfort in the fact that "governments are changing their attitudes towards Israel, because they know that Israel can help them protect their people, feed them, provide them with better lives."
He spoke about Israel's aid and cooperation in the fields of security, cyberspace, water and technology, and went on to speak about his recent trip to strengthen relations with Africa.
"Later today," Netanyahu continued, "I'll be meeting with the leaders from 17 African countries. We'll discuss how Israel can help them in transforming their countries. In Africa, things are changing. In India, Russia, China, Japan, attitudes towards Israel have changed as well. Despite Israel's small size, it can make a big difference."
Netanyahu predicted that the days where UN ambassadors reflexively condemn Israel are coming to an end. He called on the UN to "lay down its arms" against the Jewish state. "Perhaps some of you don't know it yet," he continued, "but I'm confident that one day, in the not-too-distant future, you'll get the message from your president or prime minister."
Meanwhile in the Arab world, he noted that countries which used to be bitter enemies of the Jewish state are now willing to work with Israel against mutual threats. He held up the Israeli peace treaties with Egypt and Jordan as cornerstones of peace in the world.
And, just a day after meeting with US President Barack Obama, the prime minister did not forget to thank Israel's biggest supporter in the UN.
"In this revolution, we never forget that our most cherished alliance is with the United States of America, the most powerful and generous nation on Earth," Netanyahu said to rapturous applause from the US delegation.
Netanyahu then discussed the dangers of radical, militant Islam. "Peace has no greater enemy than the force of militant Islam," he said. "Israel fights this fateful battle against the force of militant Islam every day."
"(Hamas) unbelievably cruelly refuse to return three of our citizens and the bodies of Oron Shaul and Hadar Goldin," he said, referring to the remains of two Israeli soldiers captured by the Gaza terror group during Operation Protective Edge in 2014.
"Hadar's parents are here today. They have one request: to bury their beloved son in Israel. They ask for one simple thing: to be able to visit the grave of their fallen son Hadar in Israel. Hamas couldn't care less," Netanyahu added.
To warm applause from the US delegation and visitors' gallery, Netanyahu also reiterated that "Israel will not allow Iran to establish nuclear weapons. Not now, not in a decade, not ever." Iran's delegation to the UN was not present during Netanyahu's speech.
The prime minister also spoke of Israel's ninth president Shimon Peres, who has been hospitalized for over a week after having a stroke last week.
"I stand before you today at a time when Israel's former president Shimon Peres is fighting for his life. Shimon is one of Israel's founding fathers, one of Israel's most respected leaders. I know that you will join me, the entire people of Israel, in wishing him a refuah shleima, Shimon—a full recovery," Netanyahu said.
Speaking about the former president's optimism, and voiced his own optimism and pride in Israel, that it has "soldiers who are second to none," a thriving high-tech industry, and advancements in the field of racial equality.
The prime minister finished by saying "Israel wants to be your partner in seizing that future. I call on all of you: embrace Israel. Dream with Israel. A future of security, prosperity and peace. A future where even at the UN, even in this hall, where Israel will take its rightful place among the nations."