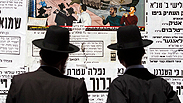 Mea Shearim. A highly conservative neighborhood.
Photo: EPA
Hila Korach, a morning show presenter with Channel 2 (Israel's largest commercial television channel) was attacked in the ultra-Orthodox Jerusalem neighborhood of Mea Shearim on Wednesday by a group of ultra-Orthodox teenagers. "I'm simply traumatized," Korach told Ynet, "(They) threw eggs at us, water bags, and called for us to die, I felt danger."

Korach was there for a filming session aimed at an educational project unrelated to her everyday work. She came to the very conservative neighborhood in modest garb, accompanied by a film crew and security guards. After filming for about an hour, a number of ultra-Orthodox youths gathered around the group and asked them to leave.

"(They) spat at us and threw eggs at us, the youths gathered around us and didn't let us pass. When we filmed near a yeshiva in Jerusalem they started to curse us, but we decided we wouldn't give up. At a certain point we understood that we can't keep filming and just wanted to get out of there," one of the crew members said.