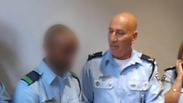 Tadala and Neumann
Photo: Israel Police
Rejected candidate for police insisted on enlisting, took out terrorist as cadet
Shimon Tadala fought for years to join the Israel Police and only managed to get in nine weeks ago because of a youthful indiscretion; still a cadet, he was the policeman who shot the would-be stabber at Jerusalem's Damascus Gate last week.
Shimon Tadala fought for years to join the Israel Police, which had refused to accept him because of an open case. In the end, at 32 years of age, he succeeded in joining up—only nine weeks later, he successfully shot dead the Jordanian terrorist at Damascus Gate who was trying to stab a Border Policeman last week.

"I didn't do anything; I just fulfilled a dream," said Tadala on Thursday after receiving a certificate of appreciation at the National Police Academy, where he is completing his policing course.

An incident from his distant past, when he was 16 years old, kept him from fulfilling that dream for years: an open case against Tadala and a few of his friends for participating in a skirmish and attacking police officers. At the conclusion of the investigation, it turned out that no such attack had taken place, and Tadala was not charged with anything.

After his IDF service, Tadala presented himself at the police enlistment office and filled out the paperwork, only to be refused because of "his criminal past." He tried time after time, but the response remained the same.

Tell of Tadala's repeated attempts reached Assistant Commissioner Avi Neumann, currently the head of the police's training division. He called in the tenacious man for a face-to-face conversation. Neumann recalled that conversation at the certificate-awarding ceremony Thursday: "I understood that the man wanted and was suited to be a policeman."

The convinced assistant commissioner brought Tadala's résumé to human resources and said, "Here's a person who wants to be a police officer, and I'm sure that he'll be a fit." Neumann was not dissuaded by the case from Tadala's youth. He said to Tadala, "It was very hard to enlist you; you'll have to be a good policeman."

The attack that Tadala foiled

Last week, along with other cadets, Tadala was sent to strengthen police forces; he was assigned to the Old City's Damascus Gate. He saw a Jordanian man wielding two knives charging a Border Policeman and quickly drew his sidearm, ran towards the attacker, and shot him before he could harm his target.

Tadala didn't see his actions as particularly meritorious and refrained from posting, so it was only around mid-week that the academy's commander's learnt of his role in the incident. The ceremony awarding him a certificate of appreciation was swiftly arranged and a surprised to the honoree. Along with Neumann were the academy's commander, Assistant Commissioner Chaim Blumenfeld, and Deputy Commissioner Gila Gaziel, the head of the police's human resources.

Tadala stated that he had not foreseen calling on his training so soon, adding, "I did what I had been taught in the course, and I acted automatically. I promised that I would prove myself, and I intend to continue thus in the future."

The cadet stated that his next dream was to rise from the enlisted rank to that of an officer in the police.