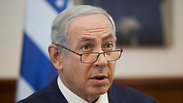 Prime Minister Benjamin Netanyahu
Photo: AP
Netanyahu denies comparing fallen soldiers' parents to Sgt. Elor Azaria's family
Asked if he called parents of other soldiers who transgressed, the prime minister said: 'No, but I have called many parents in distress over the fact their children were killed,' seemingly drawing a parallel between the two; on Sunday morning, Netanyahu clarified: 'Sorry if my words were misinterpreted. In no way did I seek to draw comparisons.'
Prime Minister Benjamin Netanyahu apologized Sunday morning after seemingly drawing a comparison between his phone call to the father of Sgt. Elor Azaria, who is currently standing trial for shooting a seriously wounded terrorist, and the calls he often makes to families of fallen soldiers.
"I am sorry if my words were misunderstood or misinterpreted," Netanyahu said. "In no way did I seek to draw comparisons between the distress of families of fallen soldiers—distress which I am very familiar with—and the situation of other suffering parents. There is no parallel and there can be no comparison."
During an interview with Channel 2 News aired on Saturday night, the prime minister said he did not regret conducting the telephone conversation with Charlie Azaria, adding, "I told him to have faith in the IDF, in the chief of staff, in the commanders, in our soldiers, and in our justice system."
Asked whether he also made telephone calls to other parents of soldiers who had allegedly transgressed, Netanyahu responded: "No, but I have called many parents in distress over the fact their children were killed, or are missing or were killed and are missing. There is a lot of distress among citizens of Israel on this and I want you to understand this.
"There are countless parents who see their children—male and female soldiers—who are put in almost impossible situations. On the one hand, they need to protect themselves and on the other hand—and it is not a simple problem—need not to be light on the trigger. It isn't easy because I was in this situation, I was in many instances, encounters or near-encounters with the enemy, and I needed to decide when I shoot and when I don't shoot. For an officer in (the Special Forces unit) Sayeret Matkal, it wasn't easy and I think that for any soldier it isn't easy."
Just hours after the interview on Saturday night, the Prime Minister's Office issued a statement attempting to clarify his remarks.
"Netanyahu did not draw a comparison between Sgt. Elor Azaria and fallen soldiers. This is a heinous attempt, a manipulation and a false representation of his words," the statement read. "The prime minister respects the bereaved families and those of missing soldiers and is well aware of their intolerable pain."