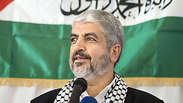 Hamas leader: I won't run in next elections
During a speech in Qatar, Khaled Mashal confirms a number of rumors circulated by Hamas senior officials of his intention to relinquish his position as chief of the terror organization during next year's expected elections; Ishmail Haniyeh likely to succeed Mashal.
Chief of Hamas Political Bureau Khaled Mashal announced Saturday night that he does not intend to run again for the organization's leadership. The announcement confirms the rumors which were circulating in the past by Hamas spokespersons.

"Just like Ishmail Haniyeh (Deputy Hamas leader) is a former prime minister, next year Khaled Mashal will be the former Chief of Hamas Political Bureau," said Mashal during a speech in Qatar on Saturday night. Local elections are expected to be held next year.

A few months ago, Mashal's close officials told Arab media of his intentions despite the leader himself remaining quiet until Saturday night.

The leading candidate expected to succeed Mashal is Haniyeh who will likely have to contend for the leadership with with senior official Mousa Mohammed Abu Marzook, who briefly headed the political bureau in the 90s.