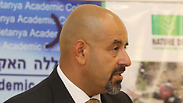 Jordanian Ambassador
Photo: Sivan Farag
Delegation of Jordanian generals visit Israel
The secret visit by the delegation included a tour of the country, meetings with high-ranking government and IDF officials, and attending a conference at Netanya Academic College; professor praises expedition of 'peace and normalization between neighboring countries.'
A delegation of 12 Jordanian soldiers—all loyal to King Abdullah—recently concluded a secret, three-day visit to Israel, during which it toured the country and met with high ranking Israeli officials and senior IDF officers.
The delgation—which requested that the visit be kept low profile—attended an international conference held at Netanya Academic College on military forces in the region preserving the environment and natural resources.
Attendees included the Jordanian Ambassador to Israel, a former Swiss Chief of Staff and senior IDF officers. Former Mossad chief Efraim Halevy, who spoke at the conference, noted the importance for the Middle East of the peace between Jordan and Israel and emphasized that both sides need to work to preserve it for future generations.
Netanya Academic College President, Professor Zvi Arad, told the conference, "I'm glad Netanya Academic College serves as a greenhouse for growing ties between Israel, Switzerland, Jordan, Germany and others in order to expedite peace and normalization between neighboring countries."