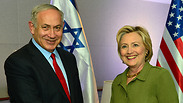 Netanyahu and Clinton
Photo: Kobi Gideon/GPO
The two US Presidential candidates met with Prime Minister Netanyahu a day before the candidates are set to face off head to head for a debate in Long Island.

After hearing from Donald Trump that his administration would recognize Jerusalem as the undivided capital of Israel, Netanyahu met with Hillary Clinton in New York on Sunday for about an hour.

.

At the end of the meeting, the Democratic nominee made it clear that she would oppose any attempts to impose an outside solution on the Israel-Palestinian conflict. A statement from the Clinton campaign said that, "Clinton has confirmed her commitment to work towards a two state solution and to direct negotiations between the parties to ensure the future of Israel as a Jewish, secure and democratic state with recognized borders, which would provide the Palestinians independence, sovereignty and dignity. Clinton reaffirms her opposition to any attempt by external forces to impose a solution, including the UN Security Council."

In her meeting with Netanyahu, Clinton stressed that a "strong and secure Israel is vital to the United States because the two countries share strategic interests and the common values of democracy, equality, tolerance and pluralism." It was reported that "Clinton emphasizes her unwavering commitment to the relationship between the United States and Israel and her plan is to take the partnership between the countries to the next level."

At the meeting, Clinton positively noted the security agreement recently signed between the US and Israel, and emphasized that if elected president, she "will continue to strengthen the security and intelligence bond between the two countries, and will work closely with Israel in order to ensure Israel's military advantage." Clinton also emphasized "the commitment to dealing with attempts to delegitimize Israel, including through BDS".

Additionally, Clinton pledged that she "will continue to work closely with Israel to enforce and implement the nuclear deal with Iran, aggressively oppose terrorism in the region under Iranian patronage, and work together with Israel to address regional challenges, including the conflict in Syria and threats from ISIS, Hamas and Hezbollah."

The Prime Minister's Office said that "Netanyahu presented to Mrs. Clinton Israel's position on regional issues related to the security of Israel and its efforts to achieve peace and stability in our region." It also said that "Netanyahu thanked Mrs. Clinton for the friendship and support for Israel." The meeting was attended Israel's ambassador to the US, Ron Dermer, and Clinton's senior adviser, Jake Sullivan.