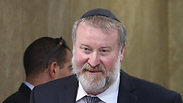 Avichai Mandelblit
Photo: Amit Shabi
AG: 'If there's reasonable suspicion, I'll launch criminal investigation against PM'
In first interview since taking office, Attorney General Avichai Mandelblit insists his ties with Netanyahu are not as close as some might believe and that regardless, it will not affect the legal examination he's currently conducting concerning the prime minister.
Attorney General Avichai Mandelblit is considered a close associate of Prime Minister Benjamin Netanyahu, but in his first interview since entering office he clarified that his ties with Netanyahu are not as close as some might believe. He also stressed that regardless of the nature of his ties to the prime minister, it will not affect the legal examination concerning Netanyahu that he's currently overseeing.

"I did not have a friendly, familial or political relationship with the prime minister, and I have not been to his home in Caesarea," Mandelblit told Naama Cohen-Friedman in an interview set to be published in the Rosh Hashanah issue of the Israeli Bar Association's periodical.

Mandelblit insisted that the fact he served as the cabinet secretary—which is a position that entails working closely with the prime minister—before being appointed attorney general, has not affected the legal examination into Netanyahu's activities.

The attorney general also rejected the implication that he was trying to hold back police investigators in an effort to avoid a criminal investigation.

"I held a professional position, not a political one," he stressed. "Did I have good working relations with the prime minister and the ministers? Yes. But I was careful not to take it to a place of a personal friendship or anything of the sort. I also made sure I kept my role as professional, as previous cabinet secretaries had done."

Mandelblit asserted there was no problem in the fact he was appointed attorney general without a cooling-off period between positions.

"Eventually, this is a question of being professional and being able to make that separation and be fair and honest when you make decisions, both in providing legal advice and in enforcing the law," he said.

"We're all adults and we all understand what's allowed and what isn't. And I think everyone—not just me but also the prime minister and ministers—understand that," the attorney general asserted. "There are ministers that are currently under criminal investigation... and there's the prime minister and there's a legal examination concerning him, and we know how to make that separation. I'm in contact with the prime minister and those ministers, working with them, and we all know how to separate the things and not discuss issues we're not supposed to discuss."

The legal examination concerning Netanyahu had begun three months ago, but Mandelblit rejected claims of foot-dragging or attempts to stall for time, noting there is simply no reasonable suspicion at present that necessitates launching a criminal investigation against the prime minister.

"A criminal investigation can only be done when there is a reasonable suspicion that an offense had been committed, and this isn't the situation at the moment," the attorney general determined. "If there's a reasonable suspicion, it will become a criminal investigation and it doesn't matter to me who is being investigated."

He went on to explain that "even though the final decision (on whether to launch a criminal investigation) is mine, my responsibility, I don't make it alone and I don't just pull it out of a hat. I consult with many officials beforehand in professional discussions, and in general of course with investigation officials and the State Attorney's Office."

"The examination is still ongoing," he continued. "And there are still actions that need to be taken by the police—which I authorized—and this is why the case is not yet on my table pending a decision."

"I hold many meetings on the topic—about once a week. No one has an interest in delaying the matter, no one is gaining from a delay," he added, noting he can't predict when the examination will end and a decision is made.

Before serving as the cabinet secretary, Mandelblit served in 2004-2011 as the military advocate general. Now, in an unusual move, he is fully backing current Military Advocate General Brig. Gen. Sharon Afek, who is currently overseeing the trial of Sgt. Elor Azaria. Azaria is facing manslaughter charges after shooting dead a seriously wounded terrorist in Hebron.

"The military advocate general should ignore all of the background noises around him and make the most professional decision he can, based on the existing evidence and based on his values and worldview," Mandelblit said, likely referring to political support for Azaria. "He has full backing from me."

Mandelblit himself is not involved in the Azaria trial. "I wasn't involved in the decision made on the case, but I did receive an update in real time from the military advocate general," he said. "I don't plan on talking about the case itself since it's still ongoing at the military court, but I think it's very important to the IDF and the state that the military advocate general and his office are able to make independent and professional decisions—and I have no doubt that this was the case here as well."

Speaking of the state of corruption in the State of Israel, the attorney general opined that "I don't think the country is corrupt."

"Overall, we have a good public system and the cases of corruption that are exposed in it are still unusual," he explained. "However, when I entered the attorney general's office I discovered that the situation was far worse than what I had initially thought. I don't want to undermine the local authorities, but there are quite a few problems there."

The attorney general concluded that "We must check, locate, investigate, and identify centers of corruption and deal with them with the utmost seriousness, including conducting (criminal) investigations and filing indictments. This actually points to the strength of the system and its determination to deal with these phenomena."