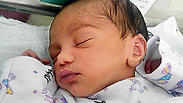 Gil and Aviva Sissai from Gan Yavne have decided to name their newborn son Elor, after Sgt. Elor Azaria, who is facing manslaughter charges after shooting dead a seriously wounded terrorist in Hebron.

"During the pregnancy, I was already thinking about how I wanted to name my son Elor," the new father said.

"That entire time I've been thinking about what Elor is going through, his family and all of the wrongs done to them," Gil continued. "A child went to protect the country, and they're ruining his family and his life."



"Everyone loved the name," the father added. "The synagogue was packed with people and they all shook my hand."

Sissai also had words of support for Azaria: "After the trial ends and he comes out innocent, I invite him to our home to visit little Elor. To me, he's a hero and I admire him."